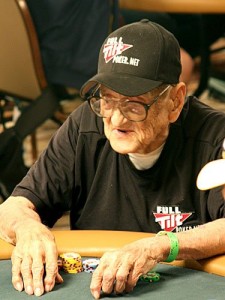 Most poker fans who follow World Series of Poker coverage each year know the name: Jack Ury. He was a favorite player to watch each year during the $10K buy-in WSOP Main Event, as he played for many years through 2009.
Jack was a sweet person who made time for interviews and seemed to enjoy some of the media attention for being the oldest player in the WSOP. At 96 years old in the 2009 Main Event, he was having difficulty getting around – his body not as spry as his sense of humor and love for cards – and was mobile in a wheelchair that was handled by his grandson, Seth Harrold, a fellow competitor in the WSOP. His vision was also greatly impaired and his hearing was limited to one ear, but none of that stopped him from making the trip to Vegas from Terre Haute, Indiana, each year to compete in the annual poker extravaganza.
He made headlines in Las Vegas not only for his age and the shared passion for poker with his grandson, but he was patched up by Full Tilt Poker  in 2009, garnering even more camera time by ESPN and other media.
After the 2010 WSOP his physical ailments caught up to him. At the age of 97, the U.S. Navy veteran who served in World War II died on February 1, 2011.
Here is a great video of some classic Jack Ury
Question of the Day: Did you ever have the pleasure to play poker with Jack?