written by: James under News Comments: Comments Off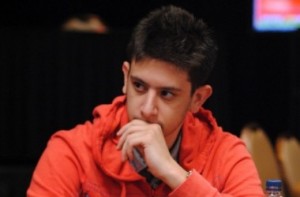 Jared Bleznick, aka harrington25, has played a remarkably consistent game so far in 2011, trading smaller losses for bigger wins and steadily building his bankroll at both PokerStars and Full Tilt Poker. Unfortunately for Bleznick, that all changed in a hurry last week.
Bleznick, a New York native, played 1,071 hands of PLO at the $100 / $200 stake level against players ranging from Andreas "skjervoy" Torbergsen and Scott "urnotindangr" Palmer to gavs101, compris and MrSweets28. The results were losses across the board, a shame for a young player who had been positive by $494k on PokerStars and $286k on FTP so far in 2011.

At the end of Bleznick's PokerStars session, he had lost upwards of $323k. Following this, he sought redemption at Full Tilt with 659 hands of $1000 / $2000 heads up LHE against O Fortuna PLS. Redemption was nowhere to be found, however, and the series resulted in another $169k lost.
After adding his total losses of $477k to his winnings so far in 2011, Bleznick is now only positive by $117k on FTP and $223k on PokerStars for the year.
Compris, one of Bleznick's opponents last night, ended up as the evening's most successful online high stakes grinder. Most of his winnings came from $100 / $200 PLO, and he was up by $460k by the time he logged off.
The other big winners of the night were, not surprisingly, most made up of Bleznick's foes: tjbentham up $109k, O Fortuna PLS up $161k, urnotindangr up $187k and gavs101 up $193k.
Aside from Bleznick, the biggest loser of the evening was MrSweets28, who lost $400k. Other losers included IMALLIN723 (down $58k), toweliestar (down $106k), LuckyGump (down $108k) and urubu111 (down $109k).
Martonas, who just made his return to online poker earlier this week, earned $37k. He's positive by around $100k so far in 2011.