written by: James under News Comments: Comments Off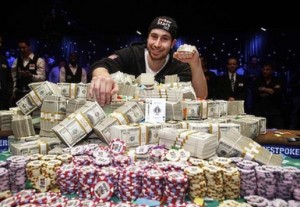 People betting against history last week are likely out celebrating today as Jonathan Duhamel won the 2010 World Series of Poker Main Event late last night. Historically, the chip leader of the November Nine, going in to the final table, was not typically the winner when the event concluded. As expected, Racener doubled his chip stack early during play but was unable to topple the 6 to 1 lead the Duhamel held heading into heads up play. By the last hand, John Racener was all in with 15 million (King/Eight) against Duhamel's Ace/Jack. According to Racener, the King/Eight pocket looked huge compared to his previous hands during heads up play.
Duhamel did not keep the lead that he brought to the final table the entire time, however. After he had slipped back in the standings, Joseph Cheong went all in with an Ace/Seven (non-suited) to be greeted with pocket Queens. Duhamel had established a reputation against Cheong of giving up pots early to Cheong's big raises. However, when Cheong pushed on this hand, Duhamel was waiting for him. Of particular note was that this became the largest pot in WSOP history at $177,000,000. According to Cheong before the flop, Duhamel made the exact right raise for him to go all in. "Had it been any larger," said Cheong, "I would have folded."
The flop came with a Three/Nine/Two, off suit and Cheong was left hoping for a Four/Five on the Turn and River or an Ace. With the turn coming as the Six of Spades, only an Ace could save Cheong. Finally, the river came as an Eight of Spades and Cheong was eliminated with Duhamel's Queens holding up. Duhamel doubled his chip stack and Racener celebrated the chance to go heads up against Duhamel, with a guaranteed extra $1.5 million in the bank for his efforts.
The final hand of the 2010 WSOP came after Duhamel repeatedly went all in against Racener (who only had about ten big blinds left in his stack). This time, Racener called with a King/Eight of Diamonds against Duhamel's Ace/Jack off suited. The flop came with a pair of fours and a Nine. One diamond kept Racener's hopes alive for a flush. With the turn coming as a Six of Clubs, Duhamel was now the 86% favorite to win the pot, and the WSOP. The river came with a Five of Clubs and Duhamel became the winner of the 2010 WSOP.
The 2010 World Series of Poker consisted of 7,319 players, making up the total prize pool of nearly $69,000,000. The final table finished as follows:
Nguyen, Soi – 9th place
Jarvis, Matthew – 8th place
Senti, Jason – 7th place
Dolan, John – 6th place
Mizrachi, Michael – 5th place
Candio, Filippo – 4th place
Cheong, Joseph – 3rd place
Racener, John – 2nd place
Duhamel, Jonathan – 1st place