written by: Will under News Comments: Comments Off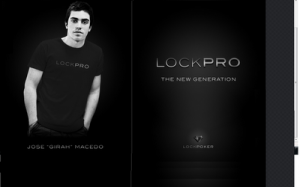 The past month has been host to a unique competition at online poker site Lock Poker entitled the Bluff Pro Challenge, a collaboration between the site itself and Bluff Magazine. The winner of the challenge was set to receive an incredible slew of prizes, including a WSOP Main Event prize package, a Bluff Magazine cover story, a half-year marketing campaign and, perhaps most importantly, a two year sponsorship deal with Team Lock, Lock Poker's elite pro team.
Interestingly, the winner of the competition was none other than Jose Macedo, the Portugal-born high stakes poker pro who – wait for it – is already sponsored by Lock Poker. Fortunately for Macedo, he'll still be eligible for the rest of the prizes. Unfortunately for everyone else, there will be no new addition to Lock's sponsored team.
In order to win the Bluff Pro Challenge, Macedo needed to make the most overall profit during the month of April, using Sit and Gos, MTTs, cash games or any combination thereof.
Despite his status as a sponsored pro, Macedo's road to the finish line was rocky. A New Hampshire online poker player using the handle BIGGUYLEGEND22 led the competition for the final two weeks of the Challenge, turning a profit every day. His momentum sputtered out on the final day, leaving him in second place with $90,198. Using his bankroll as leverage, Macedo flopped between the absolute top and bottom of the leaderboard, going negative by $23k at one point. Macedo ran hot during the last two days of the tournament, winning $104,741 from cash games and another $84 from an MTT to finish with $104,824.
Macedo is famous for having one of the best rags-to-riches stories in online poker. As a young boy, he convinced his mom to make a near-minimum deposit in his online poker account, at which point he started with the penny / two-penny tables. He quickly graduated to the $10 / $20 stake level before rocketing his backroll into the millions.
Macedo defeated a total of 965 registered players in the Bluff Pro Challenge. The promotion, along with Black Friday and the fact that Lock is still accepting US players, is leading to a rapidly increasing player base for the site.