written by: James under News Comments: Comments Off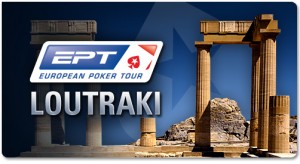 The first-ever edition of the European Poker Tour Loutraki is currently being played in Loutraki, Greece at the Club Hotel Casino Loutraki. A total of 145 runners registered on Day 1a, each paying 4,400 Euro buy-ins. When the chips were counted at the end of the day, Julian Herold of Germany was at the top of the leaderboard with 138,425 chips.
Herold faced stiff competition at his table in the form of Roberto Romanello, a former EPT champion. He hit his stride early in the day, doubling up through Romanello's bluff with a nut flush. Later on, Loutraki sealed his lead for the day with a nut straight (J-9 hole cards with a 10-8-7 flop) over Jason Wheeler and Emmanoyil Martorakis.
Kent Lundmark, another EPT champion, had a positive day as well. In a key hand, Lundmark faced off against Paul Ribaud, who pushed all-in with A-10 offsuit. Lundmark was holding A-K suited and managed to hold strong through the board, amassing 60k chips in the process. The aforementioned Romanello recovered from his losses to Herold late in the day, eventually finishing with 21k chips.
Three other former EPT champions will be returning for Day 2 as well, including Rupert Elder (83k chips), Mats Gavatin (46k chips) and David Vamplew (34k chips). Other noted pros that survived Day 1a included Chris Moorman (39k), David Peters (64k), Steve O'Dwyer (66k), Jason Wheeler (75k), Roman Makhlin (102k) and Mclean Karr (103k).
The day didn't go nearly as well for Team PokerStars Pro. Although Ana Marquez was able to handily survive the day with 41k chips, her teammates Martin Horecki and Richard Toth weren't so lucky, hitting the day before the day was over.
A total of 102 players from Day 1a will return for Day 2 on Thursday, but not before the field gets a whole lot bigger in Day 1b on Wednesday.