written by: James under News Comments: Comments Off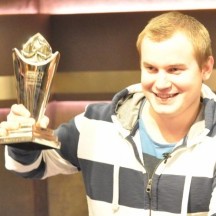 Kent Lundmark, a relative unknown in the competitive poker world, just made a seriously strong name for himself by winning the European Poker Tour Barcelona Championship, hosted by PokerStars.net. Lundmark took home EUR 825,000, easily besting his previous largest cash of $69,000. That prize, which Lundmark is probably now finding quite paltry by comparison, was won at the 2010 Nordic Masters of Poker. Lundmark scored a 2nd place finish in that tournament, which took place in his home country of Sweden. Lundmark enjoyed a similar cash purse in January, when he netted $66,000 at the NAPT PCA with a 29th place finish.
The setting at final table of EPT Barcelona couldn't have been more perfect: eight players were seated, each from a different country, and none of them with a major tournament win to their name. The final table included Jesus Cortez Lizana, who was representing his home country of Spain. Lundmark was able to secure the victory despite obvious opposition from the crowd.
In a dramatic finish, Lizano and Lundmark faced off in heads-up play, Lizana holding 10.5 million chips and Lundmark with 12.4 million. The two players engaged in a chip-trading slugfest until Lundmark took advantage of Lizano's overly aggressive play with a low pair. The Jack – Ten – 3 board cards resulted in a huge pot for Lundmark, and the Swede was able to keep the upper hand from that point on. The final hand ended with Lundmark's Ace – Queen dominating Lizano's King – Jack at showdown.
A total of 758 players took part in the EPT Barcelona main event, including 180 who earned their seat through online satellites. Many of poker's biggest names battled through the event, which carried a hefty EUR 5,300 buy-in. Final table results are listed below:
1 – Kent Lundmark (EUR 825,000)
2 – Jesus Cortez Lizano (EUR 525,000)
3 – Konstantin Puchkov (EUR 300,000)
4 – Shander de Vries (EUR 222,000)
5 – Giuseppe Pantaleo (EUR 170,000)
6 – Thor Stang (EUR 130,000)
7 – Georgios Skotadis (EUR 90,000)
8 – Francesco Notaro (EUR 70,000)