written by: James under News Comments: Comments Off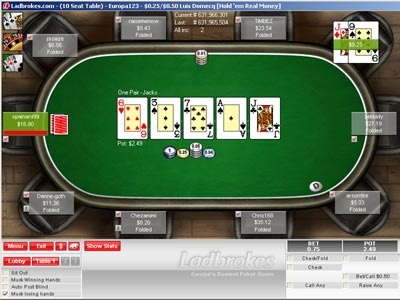 One of the first online poker strategies that beginners grasp is recognizing the importance of player notes. You may have played a player before and thought that they were very aggressive and positional – never letting you limp into a flop on the small blind. Did they have a huge hand every time? Probably not. More likely is that they saw you trying to limp into the flop too often and decided to start taking advantage of that note. Knowing what you know about that player, you might decide to fold more often on the small blind if you don't intend to make a raise. But, what if you didn't have this tool in the box? What if online poker was truly anonymous?
Over the weekend, Ladbrokes launched their first anonymous poker tables – where all information about you as a player is hidden from others. Thus, if someone took notes on you while playing in a different game, these notes will not show up if you play together at an anonymous table. While you probably won't see a great deal of high stakes or professional players sitting at these tables (how would you know anyway?), these anonymous tables are being hailed as great places for beginners with recognizable play strategies to hone their skills before diving into other poker games at the site.
Of course, Ladbrokes is also introducing these table in order to combat player complaints about software and web sites used to mine data and track player activity. With 100% anonymous poker tables, this tracking information will be rendered useless. According to a Kate McLennan, a Ladbrokes spokesperson, "the tables bring an addition factor to the game for players that might have a more apparent style of play."
When you play at an anonymous table at Ladbrokes, the only information that is shown for you (and that you will see with other players around the table) is your avatar and the specific game information. Any screen names or pictures will be hidden. Players that try out the anonymous poker tables at Ladbrokes are not locked in – they can play at both types of tables when they choose – even multi tabling at anonymous and regular poker tables at the same time.
If Ladbrokes has some success with anonymous poker tables, you will likely begin to see them added to other top poker sites. However, many players are already dismissing them as being a gimmick. Without the ability to see your opponent, online poker already pales in comparison to live poker. Take away the player notes ability, and you might as well be playing robots.