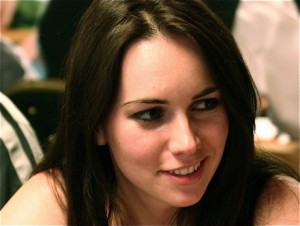 During the European Poker Tour London launch, Boeree was announced as having joined the professional poker player team at PokerStars this past week. Boeree will now be playing alongside player favorites like Chris Moneymaker, Vanessa Rousso and Daniel Negreanu at one of the largest poker sites on the Internet. Most recently, Boeree gained media attention for winning the 2010 European Poker Tour San Remo. She has stated that this announcement has been her ultimate goal for the past 5 years and is happy to be a member of the PokerStars team.
From her beginnings as a poker reality contestant, Liv Boeree has proven that she is not just a talented television personality – but also a skilled poker player. Coached by the well known poker professional Phil Hellmuth. Following her appearance on the poker show Ultimatepoker.com Showdown, Boeree started playing poker regularly as well as expanding her reach in televised poker commentary and writing. At first, Boeree began to play well in several notable championships such as the Welsh Amateur Poker Championship (where she finished seventh) and the Gala UK Poker Tour.
Boeree's larger poker successes came in the World Series of Poker 2008 when she was able to cash at 2 separate events. Finally, Boeree had a huge year in 2010 when she was victorious at the EPT San Remo for a $1.25 million purse. This granted Boeree the title of being only the 3rd female to win a European Poker Tour event. To date, her tournament winnings have topped $2 million.
Prior to entering the poker world, Boeree was already well known as a model and took courses in astrophysics at the University of Manchester.
It has become clear that Boeree's win at the EPT San Remo was the major reason that she was invited to join team PokerStars. In this event, she beat out more than 1,200 other players to win the tournament. She has gained a great deal of respect among other professional poker players for being talented at the game, a hard worker, intelligent and, of course, attractive.