written by: Steve under News Comments: Comments Off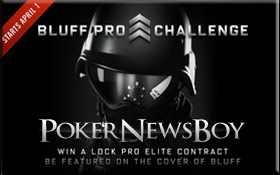 If you've ever had aspirations of becoming a sponsored poker pro, Lock Poker –in conjunction with Bluff Magazine and PokerNewsBoy.com—is giving all of us the chance to show what we have to offer at the poker tables, and one lucky online poker player will walk away with a 2-year sponsorship deal from Lock Poker.
Players who have joined, or join, Lock Poker through PokerNewsBoy.com –using the referral code PNB1200– will have the chance to take part in the Bluff Pro Challenge that begins on April 1, 2011 and runs through April 30, 2011. The winner of the promotion will be lavished with rewards including a $10,000 buy-in to the World Series of Poker Main Event, a Feature cover story in Bluff Magazine, a 2-year Lock Pro Elite sponsorship complete with a 6-month marketing campaign.

The winner of the contest will be the player who has the highest profits on the site, be it in Sit & Go's, Cash-Games, or MTT's. As Lock Poker's Card-Room Manager, Eric "Rizen" Lynch, put it: One month, one goal, whoever makes the most money wins. I'm looking forward to finding out who emerges from the challenge and getting to know the next big thing in poker!"
In addition to being entered in the Bluff Pro challenge, players joining Lock Poker who use the referral code TeamPNB1200 will also receive a 200% deposit bonus up to $1,200 as well as receiving Lock Poker's best Rakeback deal.
For more information on the Bluff Pro Challenge, or information on Lock Poker, you can visit www.pokernewsboy.com.