written by: Jennifer under Poker Comments: Comments Off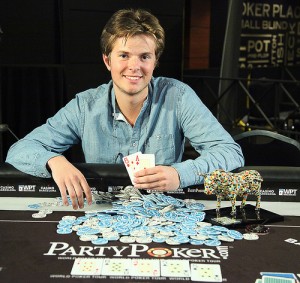 While the primary World Poker Tour season has come to an end, another tournament awaited players overseas with the WPT Spanish Championship. Casino Barcelona hosted the €3,200 + €300 buy-in Main Event that started on May 25.
Day 1A brought 94 players to the tables, though only 54 of them were left at the end of the day, with Artur Koren holding the chip lead and 122,800 chips. Day 1B added another 122 players, creating the following tournament totals:
Players: 216
Prize pool: €691,200
Paid players: 27
First place prize: €206,000
Day 1B ended with Erik Sullivan in the lead with 140,700 chips. A total of 116 players returned for Day 2, but only 51 made it through to Day 3, and it was Szymon Pieszczoch with 411K chips and the overall lead. It took a long time on Day 3 to hit the money bubble, and Martin Vallo became the first player to cash for €4,500 in 27th place. Finally, after a day of more than 12 hours of poker, Pieszczoch left in ninth place with €14,000.
The final table was set for May 29 with Jorge Duffour in the lead with 2,041,000 chips and Frederic Bussot on the short stack with 224K. Action got underway with Lukas Berglund eliminating Artur Koren and Markus Ristola in one hand, then Alexander Sidorin in sixth place and Guillem Usero in fifth. Berglund continued the rampage by eliminating Duffour in fourth and Bussot in third. The heads-up match took only four hands, the last of which saw Romain Matteoli all-in on the 7d-8c-4h-5c board with 8h-3h, but Berglund called with Ad-6d and the straight. The 5s on the river gave Berglund the victory.
Lukas Berglund (€206,000 & $25K 2011 WPT World Championship buy-in)
2nd place: Romain Matteoli (€118,000)
3rd place: Frederic Bussot (€64,000)
4th place: Jorge Duffour (€47,000)
5th place: Guillem Usero (€40,000)
6th place: Alexander Sidorin (€33,500)
7th place: Artur Koren (€27,000)
8th place: Markus Ristola (€20,200)
All information and photos courtesy of the PartyPoker blog.