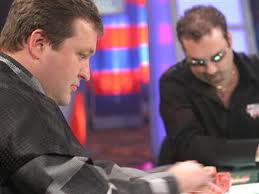 On the QuadJacks poker podcast yesterday Team Full Tilt Poker pro Mike Matusow took exception with Party Poker Spokesman Tony G placing himself in the middle of the controversy surrounding Full Tilt Poker's slow process of returning US player funds. Matusow chided Tony G for getting involved, stating he was doing so for "selfish reasons" having to do with his PokerNews.com website and other poker media outlets. For his part, Matusow guaranteed poker players at Full Tilt would be paid, adding another needle by saying, "I am not Joe Sebok. I am completely sure."
Tony G admitted to such on his most recent blog post, where he tried to explain why he was so vocal on the matter considering he works for a competitor of Full Tilt Poker as a paid Party Poker Spokesman. Tony wrote the following on his blog:
"I am involved in trying to work through it with some of the top level people at Full Tilt. And I am involved because it affects my business at PokerNews and my lifestyle in poker. We need to move forward with a positive sign to clear the rubble from the past and start building online poker into a safe, regulated system for everyone that wants to play,"
Tony G was also active on his Twitter account, telling his followers to give Full Tilt a couple of weeks to sort everything out, and implying that Team Full Tilt Poker was even contemplating paying players out of their own assets and money.