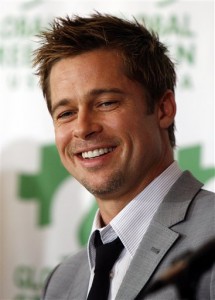 Although details are still pretty slim, it appears that a new crime movie involving poker is about to enter production that will feature Brad Pitt, Mark Ruffalo, Casey Affleck and Sam Rockwell. Tentatively entitled "Cogan's Trade," this movie will be based on the novel by the same name by suspense writer George V. Higgins. The film will be directed by a familiar figure to Pitt and Affleck – Andrew Dominik. The trio most recently collaborated on the film "The Assassination of Jesse James by the Coward Robert Ford." This poker crime movie is rumored to include some comedic aspects much like the remake series beginning with Ocean 11.
Brad Pitt will play a professional enforcer named Jackie Cogan – trying to analyze a recent robbery of a high stakes ring game – not quite legal as it is sponsored by the mafia. Cogan is determined to restore peace between gangs when the mob fails to prevent the robbery. It is still unclear which roles Affleck, Ruffalo and Rockwell will fill. However, news has been released that Pitt will also act as producer of the film.
George V. Higgins is a beloved lawyer turned author that died in 1999. His first book, "The Friends of Eddie Coyle" was a success with crime readers. Many critics are welcoming the screen version of "Cogan's Trade" if, for nothing else, than to bring one of Higgins' novels back to the public eye. However, some critics are weary of giving Andrew Dominik another shot at an important story – as "The Assassination…" was not the most popular film – flopping in many circles.
It is clear that many fans of Higgins' work and, of course, poker fans are welcoming even a poorly made film. Since "Rounders," there have been few films that did the game of poker true justice on the silver screen. Fans are likely hoping for the same treatment of "Cogan's Trade" as was given "Eddie Coyle" by a star cast including Peter Boyle and Robert Mitchum.