written by: Will under News Comments: Comments Off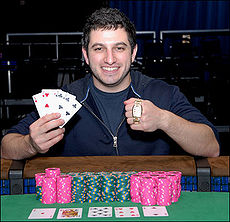 Although the interruption of Gus Hansen's recent win streak was only briefly interrupted last night, it served as a major victory for Phil "OMGClayAiken," the player who dealt the $135k strike. Martonas and cadillac1944, two players who have been largely absent from high stakes poker news in the past few weeks, reemerged as well.
Hansen and Galfond played a 357 hand heads up multi-table session on Full Tilt Poker, and the brief session of $500 / $1,000 PLO resulted in a $135k win for Galfond. Galfond, the founder of Bluefire Poker and a noted high stakes grinder in his own right, called it a night after his win.
Hansen was unwilling to settle for a lose, however, and he stayed online to play against NoParasan and Doorbread. During these sessions, Hansen bounced back quickly, recovering his losses incurred from Galfond and earning an extra $101k in profit. Hansen is showing no real signs of slowing down, and he's nearly broken the $3 million profit barrier for 2011 already.

Despite his losses to Hansens, NoParasan actually ended up as the biggest winner of the evening, earning $361k from a series of matches against cadillac1944, among others. Cadillac1944 supplied most of the funds for NoParasan, and several losses later in the evening left him with negative profits of $451k for the night. NoParasan's real identity is still unknown.
Cadillac1944′s losses last night only added to his miserable 2011, in which he's down a total of $939k. In total, his account is down by around $2.7 million, and many are wondering exactly where he's finding the money to continue.
Martonas, an unknown Swedish account that was largely overshadowed by Isildur1 when he came on the scene in mid-2009, was active on Full Tilt last night as well in the $100 / $200 PLO tables. After 1,000+ hands, Martonas was up by $67k.
Other winners of the evening included Jungleman12 (up $110k) and scout326 (up $19k). Aside from the aforementioned losers, the least successful players included Darkavenger (down $77k), andrewkirk (down $89k) and Doorbread (down $120k).