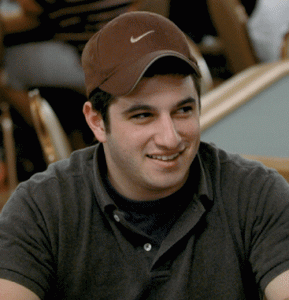 Phil Galfond, aka OMGClayAiken, was on quite a streak this past week, winning well over $700k over the course of only five days. Of course, every online pro sees their hot streak come to an end at some point, and this time, Harrington25 was responsible. Galfond, who is the leader of the poker training page BlueFirePoker.com, only saw his luck diminish from there.
Jared "Harrington25″ Bleznick took approximately $230k from Galfond during a 926 hand series of Pot Limit Omaha at the $500 / $1000 stake level.
Next up was a session against Gus Hansen, and the game type and stakes remained the same. Hansen left the heads up match with another $36k of Galfond's money.
Despite his recent winning streak, Galfond has been less than successful overall in 2011. He's currently down over $520k from the beginning of the year.

Not surprisingly, Bleznick was the biggest winner of the evening, earning over $248k in a matter of only two hours. So far in 2011, Bleznick's Full Tilt and PokerStars accounts have been highly lucrative, and he's currently showing positive earnings of $700k on FTP account alone.
Andreas Torbergsen, aka skjervoy, had quite a night as well. He was up over $199k after playing a series of $100 / $200 PLO hands on his PokerStars account.
Although Daniel Negreanu isn't traditionally recognized as a top tier online poker player, he's been working on translating his monumental live poker prowess into his online skills. Negreanu earned over $46k at PokerStars two nights ago as well.
The evening's biggest loser, of course, was Galfond. Sharing his bad breaks were tuff_shark (down $75k) and Omiphalotus (down $203k). Dan Cates, aka Jungleman12, performed poorly on both his Full Tilt and PokerStars accounts, losing approximately $50k on each. Ilari "Ziigmund" Sahamies was also down his Full Tilt account, adding a $44k loss to what's been an unfavorable 2011 so far.