written by: Steve under News Comments: Comments Off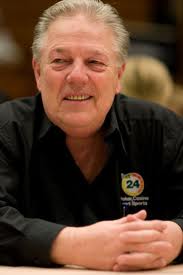 According to fellow Norwegian poker pro Andreas Hoivold, Thor Hansen has stage IV Colon Cancer, which has spread to his abdomen, lungs, and liver. Hoivold made a passionate Facebook post regarding the commonality of the disease, as well as the preventable measures that people can take for early detection: Namely a colonoscopy.
Hansen's battle with cancer first came to light last week when Twitter and the 2+2 poker forum became abuzz with the rumor, which led many people close to Hansen to confirm the bad news.
Here is a look at Hoivold's entire Facebook post, which everyone should take to heart and pass on:
"A short update on Thor Hansen: The cancer he has is colon cancer (Norwegian: Tykktarmskreft), one of the most common cancers there is. It is in stage IV, which is kind of bad. The cancer has spread throughout his abdomen, liver and lungs and it is no longer curable. But there is hope! He can, if his cancer respons well to treatment, live for many more years.
"There is one tragedy. If he had been checked for this type of cancer (procedure called colonoscopy) they would have been able to treat it. I write this so other people will take a colon cancer screening and not end up in the same situation. It is an easy test that everyone over the age of 50 should take once every 10 years. I hope I am not offending anyone by writing this, but it is very important."
Hansen is a Norwegian poker legend, credited with being one of the first Europeans to play at the World Series of Poker; the 64 year-old has been a friend and mentor to many players in the poker world, and the entire poker world is pulling for Hansen to beat the disease.