written by: Steve under News Comments: Comments Off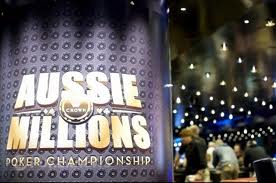 In honor of their 10th anniversary hosting the Aussie Millions (previously known as the Australian Poker Championship before becoming the Crown Australian Poker Championship or Aussie Millions for short) the Crown Casino in Melbourne held a special Tournament of Champions, inviting the previous nine winners of the tournament to take part in a special event that would see the winner receive free buy-ins to the Aussie Millions Main Event for the rest of their life.
Eight of the previous nine Aussie Millions Main Event winners were in attendance for the Tournament of Champions, with only Alexander Kostritsyn absent while he awaits the birth of his son. And as fate would have it, the youngest player of the eight competitors (and therefore the player with the most to gain from the prize, which amounts to $10,000 a year for the rest of your life) would come out victorious, as Australian native, and 2010 Aussie Millions Champion Tyron Krost defeated the tough field.
Here is a look at how the players were seated at the eight-person table:
Seat 1: Tyron Krost 2010 Aussie Millions Champion
Seat 2: Peter Costa 2003 Aussie Millions Champion
Seat 3: Gus Hansen 2007 Aussie Millions Champion
Seat 4: Stewart Scott 2009 Aussie Millions Champion
Seat 5: Jamil Dia 2005 Aussie Millions Champion
Seat 6: Lee Nelson 2006 Aussie Millions Champion
Seat 7: Tony Bloom 2004 Aussie Millions Champion
Seat 8: David Gorr 2011 Aussie Millions Champion
And here is a look at how the eight players finished the event:
1st place: Tyron Krost – Lifetime entry to the Aussie Millions Main Event
2nd place: Tony Bloom
3rd place: Lee Nelson
4th place: Gus Hansen
5th place: Peter Costa
6th place: David Gorr
7th place: Jamil Dia
8th place: Stewart Scott