written by: Jennifer under Poker Comments: Comments Off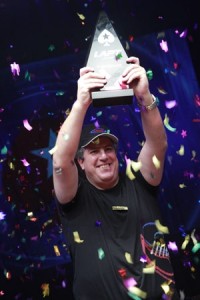 In the middle of Season 4 of the PokerStars.net Latin American Poker Tour, the biggest schedule of tours to date landed players directly in the Atlantic City Casino in Lima, Peru. The $2,500 buy-in Main Event found itself a sizeable field and quite a bit of excitement for the LAPT.
There were a total of 350 players from a total of 30 different countries in the LAPT Lima, which created a prize pool of $774,000. That was enough to pay out the top 48 players, with the first cashers looking at $3,870 and the winner $207,400.
Action started with those 350 players, but only a third of that number made it to Day 2. And it was Day 2 that started with sad news as one of the players with a sizeable stack – Team PokerStars Pro Andre Akkari – was called home due to the death of his father. As everyone settled back into the game, the money bubble eventually burst halfway through the day, and players like Humberto Brenes and Leo Fernandez cashed along the way. Akkari's stack was even enough to cash him out in 43rd place. Ultimately, 24 players made it through with Daniel Ospina as the chip leader.
Day 3 played down to the final table, and when all was said and done, Ospina maintained the chip lead with 1,582,000. With only eight players still in the running for the last day of play, Ospina was followed closely by Samar Hodali at the top of the chip counts, while Team PokerStars Online's Karlo Lopez was the short stack with 406K.
Final table play began with a little caution, but it didn't take a very long time for Lopez to be ousted by Leonardo Zepeda. Ospina fell quickly in the early stages and was eliminated in seventh place by Kemal Ferri. Hodali eliminated Zepeda in sixth, and Raul Pino took out the last woman standing, Hodali, in fifth. Ferri stepped back in to eliminate Michel Barham in fourth and Rodrigues in third. The final battle started with Pino holding 4.12 million and Ferri with 2.88 million, and it didn't take long for Ferri to jump into the lead and dominate. The last hand saw short-stacked Pino push all-in with Kd-7d and Ferri call with Kc-Qh. The board of 9s-6s-5d-6h-2c , and Pino took second place while Ferri hoisted the trophy for the win.
1st place: Kemal Ferri ($207,400)
2nd place: Raul Pino ($120,000)
3rd place: Pablo Rodrigues ($73,540)
4th place: Michel Barham ($54,180)
5th place: Samar Hodali ($38,700)
6th place: Leonardo Zepeda ($30,960)
7th place: Daniel Ospina ($23,220)
8th place: Karlo Lopez ($15,480)
Information courtesy of PokerStars blog and photo credit to Carlos Monti.