written by: Will under News Comments: Comments Off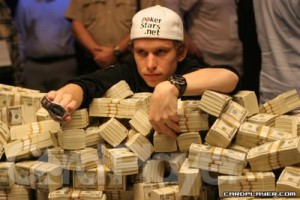 Peter Eastgate, the champion of the World Series Poker Main Event in 2008, has offered a huge surprise to the world of professional poker by announcing that he will soon end his retirement from the game. Eastgate, who is only 24 years of age, announced his retirement last summer immediately before the beginning of the 2010 edition of the WSOP.
Many poker pros and poker analysts alike were dismayed to learn of Eastgate's retirement, which he solidified last Fall when he placed his WSOP Main Event bracelet on eBay. The blow was softened when Eastgate announced that he was donating the $147,500 he received for the bracelet to UNICEF, a famous childrens' charity.

Fortunately, it only took eight months for Eastgate to change his mind and decide that he would indeed return to the world of professional poker. He plans to enter the EPT Copenhagen tournament later in February, as well as the National Heads Up Championship in Las Vegas. The latter event will be televised on NBC.
Eastgate says that he does not consider his return a "comeback." Instead, he claims that a return to poker has been weighing heavy on his mind throughout his brief retirement. Eastgate's initial announcement even points to a possible resumption of his PokerStars sponsorship, as he talks extensively about how PokerStars has been throughout his hiatus. It's also worth noting that his first live tournament, EPT Copenhagen, is sponsored by PokerStars.
Eastgate went on to say that his primary reason for retiring in the first place was a sudden lack of financial motivation following his WSOP win in 2008. The claim is certainly understandable; when a person in his early twenties suddenly receives over $9 million, it can create a paradigm shift in that person's career outlook. Eastgate's total live tournament winnings approach $11 million, and there's little doubt that that figure will rise following his return.