written by: James under News Comments: Comments Off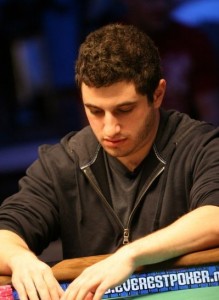 It was quite a weekend for Phil "OMGClayAiken" Galfond, who carried the momentum he built from a massive win over Gus Hansen into a ridiculously high stakes PLO session against none other than Scott "URnotINdanger2″ Palmer.
On Saturday, February 5th, Galfond and Palmer engaged in over 1,000 hands of Pot Limit Omaha at the $500 / $1000 stake level. When the dust settled, Galfond was up over $600k. Prior to his recent success, Galfond's online poker career was in severe downswing. His losing streak included the loss of $1.7 million, mostly in high stakes 2-7 Triple Draw cash games. Here's hoping that this recent success will be a sign of things to come for the humorously-named online pro.
Palmer was the weekend's biggest loser by no small margin. In all, he lost over $787k on his Full Tilt Account. Palmer's weekend wasn't a total loss, as he took just over $114k from the highly skilled yet inconsistent Viktor "Isildur1″ Blom on Blom's home turf, PokerStars.

Along with Galfond, Gus Hansen joined the shortlist of losing 2010 players to experience a major upswing in the formative weeks of 2011. Hansen, a Full Tilt Poker Pro, played 1,037 hands over the weekend to win over $185k. Although Hansen lost over a million dollars in 2010, his $1.3 million worth of profit in 2011 makes him one of the winningest online players of the year so far.
Other big winners over the weekend included Patrik Antonius (up $83k), S3 TRX (up $85k) and Dan Cates (otherwise known as Jungleman12, up $88k).
Aside from URnotINdanger2, the weekend's biggest losers included the similarly named Di "Urindanger" Dang (down $119k), kilski (down $68k), Johnbest (down $78k) and Skjervoy (down $110k). It should be noted that Di Dang was also one of the biggest winners in online poker so far this year, though the recent loss chips away at his position.