written by: Will under News Comments: Comments Off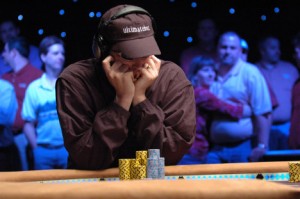 Traditionally, when a poker player stops wearing gear from his sponsor site at major tournaments, this is a sign of either a fine or a departure. Rumors are springing up that Phil Hellmuth may be leaving UB for undisclosed reasons. It would be a hard pill to swallow for most poker players. Hellmuth has stood by UB through thick and thin since he joined their pro team in 2003. Even during the infamous Super-User scandal that nearly ruined the site name Ultimate Bet at the time, Phil Hellmuth stood by and defending the site operators.
For two major tournaments in a row (in addition to a Poker After Dark appearance), Phil Hellmuth has failed to wear any sort of UB apparel, as is normally the rule. One of the newest confirmations of Hellmuth not wearing his UB gear was during his participation in the NAPT tournament held by PokerStars in Los Angeles.
One reason that many people are speculating that this recent turn of events might mean a split between Hellmuth and UB is that neither UB or Hellmuth has responded to publicly voiced rumors about the split. Normally, as has been the case in the past, one or both parties would speak up about the baseless rumors and squash them immediately. Whether we will hear more about the possible split is yet to be determined but it is doubtful that anything will be addressed until after Thanksgiving.
Possible new homes for Hellmuth could be Full Tilt Poker or PokerStars as both would jump at the chance to pick up the Hall of Famer, even if he has a reputation for interacting rather negatively with some of their current poker pros. Any first tier poker site might be in a position to make a bid for Hellmuth's talents. Still, some rumors are that Hellmuth might be making a bid to leave the sponsorship spotlight and go his own way – not outlandish for such an accomplished poker professional.
For those of you that are unfamiliar with Hellmuth, check out a recent post by Sara with the Best Poker Blowups: YouTube Version.