written by: Haylie under News Comments: Comments Off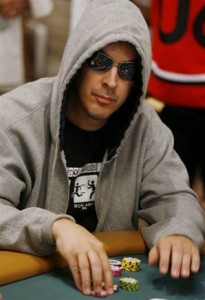 After having to deal with a personal challenge in August after a near fatal ATV accident in August, Phil Laak has reason to celebrate this year as he can now scratch his name off of the "best-player-to-never-win-a-bracelet" list after his win at the first bracelet event of the World Series of Poker Europe. Laak toppled 243 potential winners in the tournament to come out as the winner of the $2,650 6 handed NL holdem poker tournament. Laak faced his toughest competitor heads up at the end of the tournament, Andrew Pantling. This professional poker player from Malta was the strong chip leader on the final day of the tournament and battled against Laak for a total of 3 hours before Laak was able to take him down.
When play at the final table began, Phil Laak was in third place as far as chip count is concerned with a little more than 300,000.
Laak didn't just come home with a new piece of jewelry on his wrist. His total winnings for the tournament exceeded $170,000 to supplement his total career live tournament earnings of more than $1.1 million. Laak has certainly faced his share of challenges this year. In addition to the well publicized ATV accident, Laak also participated in the world record longest continuous poker game during the summer at Las Vegas. Still sporting a cast from the August accident during the WSOPE event, Laak decorated the plaster with an image of the Union Jack for the tournament.
When heads up play began between Laak and Pantling, Pantling was thee chip leader by almost 300,000. However, Laak gradually chipped away at the lead (with a few lead changes) until the final hand. During this hand, Pantling went all in with a Ace/Nine of Hearts with two Hearts on the table. Laak called with his King of Diamonds and 5 of Clubs. Pantling never hit his flush and Laak took home the bracelet with a mere two pair, fives and fours. What could have ended up being a rather poor call on Laak's part became a hero call for one of the crowning moments of his career.