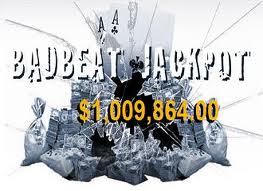 According to a report on PokerFuse.com the Bad Beat Jackpot has been triggered on the Merge Gaming Network after two players met all of the qualifications the site specifies. The Jackpot had grown to eclipse the $1 million mark, making this one of the largest payouts Bad-Beat payouts in poker history.
The players responsible for the Bad-Beat Jackpot were playing in a $1/$2 Limit Holdem Game where one player saw his Quad 7's cracked by another player's Quad Queen's. The loss netted the player with Quad 7's the bulk of the jackpot money, collecting $335,000, while the winning player in the hand received a six-figure payout of his own, $177,000. Each of the other players dealt cards at the beginning of the hand received a little over $25,000 simply for being in the right place at the right time.
Only 70% of the jackpot goes to the players: Merge Gaming keeps 10% of the total jackpot for "Administration Costs" and the remaining 20% is used to start the new Bad Beat Jackpot.
Here is a look at the stipulations that must be met in order to trigger the Bad Beat Jackpot at the Merge Gaming Network:
The game must be on a specified "Bad Beat Jackpot" table
At least four players must be dealt in at the start of the hand
The hand must go to showdown
A minimum rake of $.50 must be collected
The losing hand must be four 7's or better
Both the Winner and Loser must use both hole-cards in their hand