written by: Steve under News Comments: Comments Off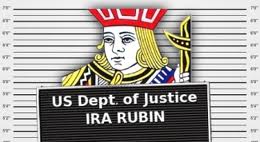 Poker payment processor Ira Rubin plead guilty to three separate charges on Tuesday, and  became the second person indicted on Black Friday to plead guilty. Rubin plead guilty to Conspiracy charges for his role in processing online poker payments from PokerStars, Full Tilt poker, and Absolute Poker. The 53 year-old was arrested in Guatemala last year after hiding from Canadian authorities in Latin America since 2008, over a Telemarketing Fraud conviction.
Rubin allegedly was the mastermind behind setting up payment processors to handle online poker transactions and disguising them as online merchant sales. He will face sentencing on May 17, 2012. By pleading guilty to the Conspiracy charge and two other charges, Rubin avoids going to trial where he faced a total of nine counts and a potential sentence of up to 55 years in prison –his plea-bargain will see Rubin sentenced to anywhere from 18-24 months in prison; there is no word on whether the Canadians are interested in extraditing him on the previous charges.
After being detained in Guatemala soon after being indicted last April –allegedly attempting to flee to Thailand in the wake of the Black Friday indictments– Rubin has been in custody ever since, as an obvious flight risk. Rubin's guilty plea comes on the heels of Absolute Poker co-founder Brent Beckley pleading guilty back in December, and could be the death knell for the other indicted individuals if both a site's founder and the payment processor are working with the authorities.