written by: John under News Comments: Comments Off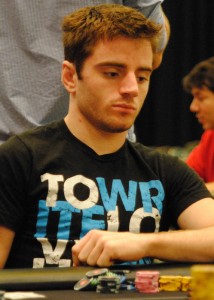 Over the years many an odd, or sometimes dangerous, prop bet has come to light, and a recent prop bet between Ashton "TheAshman103" Griffin and his roommate Haseeb "Dogishead" Qureshi seems to fall into both of those categories; odd, and somewhat dangerous.
According to Bluff Magazine, Griffin gave three to one odds to Qureshi on a bet that he could run 70 miles on a treadmill in a 24-hour period, and at least one other poker pro decided to get in on the action, as Justin "Boosted J" Smith put his money down on Griffin.
The outcome of the bet saw Griffin manage the feat of running nearly three marathons in a single day, with about an hour to spare, collecting the $300,000 wager from Qureshi. While there is no word on the size of the wager that Smith made he did send out the following Tweet:
"A verry big/insane prop bet just came to conclusion. I booked action on @arfarfhowl to be able to run 70 miles in 24 hour window. DING WEWIN"
Griffin's Tweet was a little more conciliatory, and quite to the point: "In an enormous amount of pain."
This one may just go down in the poker annals next to Huck Seed's attempt to stand in the ocean for 24 hours; Ted Forrest getting down to 138 lbs; and Howard Lederer's $10,000 cheeseburger.