written by: James under News Comments: Comments Off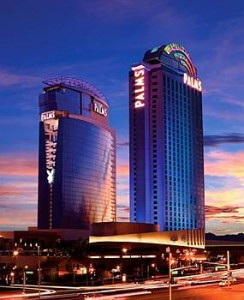 The Palms Casino Resort in Vegas has teamed up with Jeffrey Pollack and Annie Duke to turn Federated Sports and Gaming into a new professional poker league designed to serve the specific needs of the best poker pros in the world. Pollack is known as the former president of the World Series of Poker, while Duke recently exited her sponsorship deal with UB.
Initially, the Federated Sports and Gaming (aka FS+G) schedule will feature three major tournaments between August and December of 2011, with a championship tournament scheduled for January of 2012 at the Palms Casino Resort. The tournaments, which are to be televised, will feature large prize pool schedules and no rake for professionals.
The FS+G league will include the best 200 poker players in the world. Rankings will be determined using historical data and statistics, which will be plugged into eligibility formulas simliar to those used in professional tennis and golf.

Duke explained that a unified poker league has been discussed among industry higher-ups for several years. FS+G was actually created last year through the collaborative efforts of Pollack and leading executives from Youbet.com, including David Goldberg, Jeffrey Grosman and Michael Brodsky. Pollack described his excitement over the league, saying that the best players in poker deserve the same star treatment afforded to professional athletes. Pollack hopes that the new league will provide an unprecedented tournament experience to the pros, with the Palms as an appropriately luxurious base of operations for the league.
Erik Seidel, who has accumulated eight WSOP bracelets and was inducted into the Poker Hall of Fame in 2010, believes that the league will be a crucial step towards bringing professional poker up to the same level of media attention and respect provided to other pro sports.
The non-professional poker community isn't so sure. Poker forum crawlers have already begun to write off the league as an "elitist joke," saying that an invitational league runs counter to the idea that anyone with enough skill and dedication can make their way to the top of the poker heap. Of course, this will be difficult to determine until FS+G releases more information regarding their ranking criteria.