written by: Steve under News Comments: Comments Off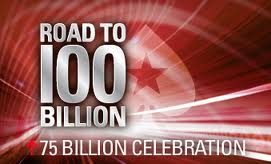 PokerStars is still slogging along on their road to 100 Billion hands, and very soon the company will reach a very important milestone, as the next bellwether for the site is the 75 Billionth Hand Celebration, presumed to be occurring sometime in the next week.
To mark the historic milestone PokerStars will be giving away up to $1 million over the coming days, with the bulk of the prize-money set aside for the lucky players who participate in the site's 75 Billionth hand. But, PokerStars will also be awarding prizes to any player who participates in any millionth hand from now until the 75 Billionth hand is dealt on PokerStars.
Any player fortunate enough to be a participant in one of the millionth hands dealt during the promotion will receive $60 for every VPP they have earned at that particular table over the past 50 hands PLUS $20. For example, a player who has collected 10 VPP's over the past 50 hands will receive $620 [$60 x 10 VPP's + $20 = $620]. The winner of the hand will have their total prize doubled.
For the lucky table that has the honor of being part of the 75 Billionth hand the prizes increase exponentially –as they say on the WPT, the price of poker has just gone up! All players dealt into the hand will receive $1,000 for every VPP earned at that table over the previous 50 hands PLUS an additional $10,000! For example, the same player who $620 during one of the millionth milestone hands for collecting 10 VPP's would receive $20,000 [$1,000 x 10 VPP's + $10,000 = $20,000]. The winner of the hand will once again see their prize doubled.
Any player is eligible to take part in the promotion, and stakes do not matter (although the higher the stakes you play the more VPP's you will have earned over the previous 50 hands) with even the penny-limit players able to get in on the action.
For more information on the 75 Billionth hand celebration you can visit the PokerStars Blog at www.pokerstarsblog.com