written by: John under News Comments: Comments Off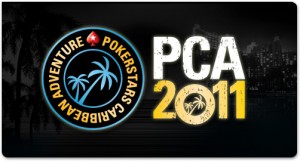 With over 1,500 players already eliminated from the PokerStars Caribbean Adventure (PCA) Main Event tournament you can be certain that the remaining 48 players are considering themselves lucky to have gotten this far, but with a prize differential of $2.3 million for 1st place compared to $52,000 for 48th you can also be sure that none of the remaining players will be happy should they hit the rail on Wednesday.
While all of poker's elites have been eliminated from the tournament there is still one really big name left in the hunt, 2003 WSOP Champion Chris Moneymaker. Along with Moneymaker, few lesser known poker pros are still vying for the PCA title as well, including Mike Sowers, Grayson Ramage, Eric Froehlich, Toby Lewis, and Sam Stein.

A quick look at the leader-board heading into Day 4 of the tournament shows chip-leader Chris Oliver way out in front of the rest of the field, and it's going to take some stellar play –and a bit of 'Run-Good'—for anyone to have a shot at chasing down Oliver:
1.    Chris Oliver — 3,675,000
2.    Max Lehmanski — 2,324,000
3.    John Andress — 1,985,000
4.    Galen Hall — 1,677,000
5.    Chris Moneymaker — 1,636,000
6.    Philippe Plouffe — 1,566,000
7.    Matt Lichtie — 1,463,000
8.    Mike Sowers — 1,360,000
9.    Ilan Rouah — 1,349,000
10. Dmitriy Stelmak — 1,303,000
Day 4 of the PCA will see the field play down to just 24 players, and will get underway at Noon local time.