written by: John under News Comments: Comments Off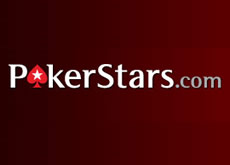 PokerStars is the largest poker site in the world, offering a huge volume of cash games every day. They also offer multi-table tournaments, and you can find action 24-hours a day. They set the bar high in the industry, with an unparalleled selection of SNGs at all stakes starting up virtually every second.
But back in 2008, PokerStars wasn't satisfied to be the world largest online poker room. On December 28 they attempted to end the year on a higher note by hosting a world record breaking online poker tournament. They succeeded with a "Guinness World Record Tournament." It was not only a success but it attracted as many poker players as could possibly be seated. They capped the action at 35,000 players, and every single seat was filled before the tournament ever even got underway. No surprise there, as the online poker room required a buy-in of only $11 ($10+$1), paying a guaranteed prize pool of $500,000.
With all the seats filled, the buy-in only covered $350,000 of the purse, topped off by an extra $150,000 that was put up by PokerStars. The tournament only lasted 9.5 hours. There were so many competitors it should have lasted longer, but with only $11 at stake, players could afford to take more risks. The winner claimed a top prize of $30,000. Not a bad gamble at all.
ALONG COMES FULL TILT POKER
July 2009. Not to be outdone, Full Tilt Poker announced their intention to gain entry into the Guinness Book of World Records as part of their "Full Tilt Poker Five" promotion. Hoping for a turnout of 50,000 players, which was the cap, they would have been happy with 35,001 which would have given them the record. But PokerStars was not going to allow their #1 competitor to snatch their record right out from under them like that. They set up a fairly impromptu tournament just one hour before the Full Tilt record breaking attempt began. PokerStars would host yet another world record attempt with a $1 buy-in and a guaranteed prize pool of $130,000.
Each site experienced their fair share of problems during the tournaments, though. Complaints of the software slowing down and timeouts were made. But both tournaments were ultimately successful, each reaching their respective capacities. However, PokerStars came out as the clear winner with 15,000 more entrants than Full Tilt at a whopping 65,000 registered players. Despite the prize pool being more lucrative than the Full Tilt tournament, PokerStars offered a cheaper entry fee and the notion that they would still own the record, which drove more online poker players to join their tournament instead of Full Tilt's. In the end PokerStars retained ownership of the new world record.
JUST TWO MONTHS LATER
On September 6th of 2009, PokerStars defeated its own world record again, but this time for most online poker players logged on to the same site simultaneously, or officially named, "Most Players at an Internet Poker Room." On that day, the World Cup Of Online Poker (WCOOP) was in full swing, and PokerStars recorded 307,016 players taking part in tournaments, cash games, and free poker games on the site at the same time. Players were seated at 42,814 tables, and once verified by Guinness record keepers, broke their previous record by over 100,000. On September 5th, WCOOP Event #6, the $109 No Limit Texas Hold 'em tournament, drew an astounding 15,675 players. This did not take into account the number of players who were participating in Event #7, the $215 Pot Limit Five Card Draw, satellite tournaments, and play money games on the site.
On Sunday, September 6th, and the traditional big day of the week for online tournaments players around the world, the WCOOP featured three big events: Event #9, a $215 No Limit Hold 'em that attracted 11,131 runners, Event #10, the $10,300 High Roller tournament, 299 players, and the first day Event #11, the two-day $30 No Limit Hold 'em event drawing 6,219 players, were also in action. Once the numbers were counted up, it cracked the previous record set by PokerStars back in July of that same year.
AND YET ANOTHER RECORD BREAKER
Only a few months later, on December 27, 2009, an astounding 149,196 players showed up (this is more than twice the number set in July of 2009) for a $1 event at PokerStars, this was made possible after the site decided to remove the cap on the number of entrants all together. Nearly 150,000 opponents must be a tough field to navigate, but on the other hand the prize pool was equally deep, paying out to the 30,000 top finishers. Thanks to a fast structure, the tournament was over in less than 6 hours. Player, "oskar69," managed to grind his way to the very top and was awarded with the hefty top prize of $50,000. The total guaranteed prize pool was $300,000.
HERE TO STAY
PokerStars is a gutsy and savvy online poker site. It was not until 2006 though that they found themselves at the top of the tree when the Unlawful Internet Gambling Enforcement Act was passed by the US government. The UIGEA single-handedly changed the face of online poker forever, effectively causing a number of online poker rooms to withdraw from the online gambling market in the US. A few brave souls like PokerStars elected to keep their doors open to US players, using the opportunity to move into the spot of number one online poker room, taking the place of PartyPoker, which did withdraw from the US market. PokerStars made their move, implementing new software changes, adding new tournaments, updating their amazing FPP (Frequent Player Point) system, and upgrading to breakthrough technology that would begin to win players over. When Party Poker closed its cash services to US customers in November 2006, PokerStars grew to amazing new numbers, registering over 9 million users.
2010
In a press conference coinciding with the kickoff of the 2010 Caribbean Adventure, PokerStars has announced the creation of the North American Poker Tour (NAPT). Three stops are already in place with the Caribbean Adventure counting as the first. The identity of the broadcast partner has not yet be named, the show's hostess was. It is the very popular super model, Joanna Krupa. Is there room for yet another poker tour on the calendar, especially on this continent?  PokerStars bets there is.