written by: Will under News Comments: Comments Off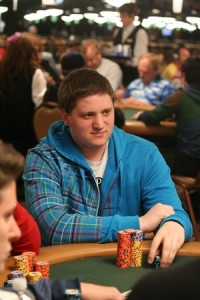 A total of 191 players showed up to play on Day 1b of European Poker Tour Loutraki, sponsored by online poker site PokerStars. Team PokerStars Pro faltered on Day 1a and sent considerable reinforcements on Day 1b in the form of Jude Ainsworth, Randy Lew, Johnny Lodden, Eugene Katchaov, Arnaud Mattern, Toni Judet, Theo Jorgensen and Vanessa Rousso.
No member of the PokerStars army could keep up with chip leader Mari Puccini, however. Puccini, a native of Germany in spite of his last name, racked up over 159k throughout seven levels of play, enough to top Day 1a chip leader Julian Herold.
Vanessa Rousso was among the Team PokerStars Pros to face elimination on Wednesday, as her pocket nines failed to improve on the board against pocket jacks. Arnaud Mattern met the same fate, having his chip stack crippled when his trip jacks ran into the riverbed straight of Loykia Lypraloy.
Toni Judet and Johnny Lodden both fared much better. Lodden survived with 40k, while Judet is a genuine contender on the leaderboard with over 143k.
Of course, with 191 players paying their 4,400 Euro buy-ins, there were sure to be a few non-Team PokerStars Pros in the action as well. Kevin MacPhee, former winner of EPT Berlin, bagged up 74k at the end of play, thanks to a 4-bet pot he won by calling an A-Q bluff with pocket kings. Jan Collado was close behind, finishing the day with 72k chips despite losing a 50k pot to Jude Ainsworth.
A number of noted pros weren't so lucky. Heath Herring of MMA fame, Randy Lew of PokerStars Team Online Pro, Vitaly Lunkin, Jens Thorson and William Thorson all hit the rail at one point or another.
130 Day 1b survivors and 102 Day 1a survivors will reconvene on Thursday, at which point the ranks will be thinned out even more.