written by: John under News Comments: Comments Off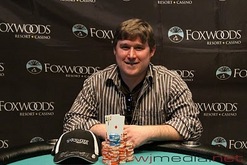 When planning its February Mega Stack Challenge tournament series, Foxwoods looked to juice it up by offering a freeroll tournament for the members of the World Series of Poker November Nine . The event was scheduled for February 8 with all of the nine WSOP Main Event final table players in attendance, and there was a $15K prize pool on the line.
In total, there were 30 players, as invited guests Foxwoods sponsor and pro player Bernard Lee, ESPN commentator Lon McEachern, and All In Magazine editor Kasey Thompson joined 18 qualifiers, all of whom were players who cashed in 2011 events at Foxwoods and were chosen randomly. Action was tracked by the Foxwoods Live blogging team.

The three-table event began with numerous side bets between the players, many of whom have become friends, and quite a bit of action. As far as the November Nine players, Joseph Cheong was the first to exit, courtesy of Michael Mizrachi, whose K-J bested pocket fours. With that, John Racener won the last-longer bet, meaning Cheong will pay Racener's entry to the L.A. Poker Classic Main Event.
Soi Nguyen was the next to leave the tournament, and Bernard Lee sent Jason Senti home shortly thereafter. Filippo Candio left with 16 players still left in the tournament, and he was followed by Racener. Jonathan Duhamel eliminated John Dolan, and McEachern was sent home on the money and final table bubble, courtesy of Matt Jarvis.
Final table exits started with Mark Walsh, Rich Grygeil, and Joseph Washington. Jarvis then eliminated Mizrachi, and Duhamel took out Lee. Duhamel then took his A-J of diamonds into battle against the pocket fives of qualifier Ben Hopkins, and though another ace and jack appeared on the flop, a five came on the river to eliminate Duhamel in fifth place. Anthony Palladino took fourth and Bill Raynor third, to leave Jarvis and Hopkins to battle it out heads-up.
Hopkins started with a slight lead over Jarvis, and though Jarvis was crippled in one of the hands, he came back to even the counts. But Hopkins had the lead when Jarvis moved all-in with K-J against the A-Q of Hopkins. The board of T-9-4-7-4 ended it, with Jarvis taking home $3K for second place and Hopkins, who qualified by finished seventh in an $80 turbo event at Foxwoods, winning $5K for the victory. It was Hopkins' biggest poker win to date.
1st place:  Ben Hopkins ($5,000)
2nd place:  Matt Jarvis ($3,000)
3rd place:  Bill Raynor ($2,000)
4th place:  Anthony Palladino ($1,000)
5th place:  Jonathan Duhamel ($1,000)
6th place:  Bernard Lee ($1,000)
7th place:  Michael Mizrachi ($500)
8th place:  Joseph Washington ($500)
9th place:  Rich Grygeil ($500)
10th place:  Mark Walsh ($500)
Question of the Day: Did you pay attention to the reunion of the November Nine?