written by: John under News Comments: Comments Off

No one knows the true identity of the anonymous benefactor who goes by RobinHood702. Instead of a bow and arrow though, he uses his blackjack skills to take from the "rich" (casinos) and give to the poor. And his aim, he says is simple: "I'm going to take the dark side associated with gambling and use it for good."
In 2008, this good Samaritan chose the Kegler family of Detroit who were burdened with medical bills related to their young daughter's battle with brain cancer. Three-year-old Madison Kegler's parents were working rotating shifts at Target for their income and had incurred $34,000 in debt while caring for her. He flew them to Las Vegas, put them up in an 8,000-square-foot suite at the Palazzo and had them chauffeured around in a Rolls Royce. He made them a promise before heading to the blackjack table that he was going to get them out of debt. He not only kept his promise but sent the Kegler's home with $100,000! He also helped Sandra Brown of Charleston, South Carolina, a woman who had gone into debt taking care of her elderly parents; he won her $20,000.
Obviously a Pro
Casino bosses regard him as a whale—one of the elite high rollers for whom nothing is too much trouble. An expert blackjack player, he gambles in private VIP rooms for thousands of dollars a hand, two hands at a time. His strategy is simple enough: for 24 hours, he will use a huge amount of cash (as much as $1 million) of his own money and gamble with the goal of making tens of thousands in profits for his less fortunate winnings recipients. If and when he hits his goal, he will stop the gambling session and deposit the winnings in a bank account for the family he has chosen to help.
"You usually need between five and 10 times the amount you want to win," says RobinHood. He brings enough cash to ride out the swings of bad luck and then quits when he gets just 10% ahead of the game. He says, "If you want to win $10,000, you better have $100,000 to play with." And as a pro, he is typically able to turn $200,000 into $230,000. "People who think they can double their money are crazy. I only try to get up by 10 to 20%; then I walk out. The key is to know what your goal is and stop as soon as you get there." This is the key to gambling, quitting while you are ahead, so if you want to play online blackjack you should follow this principle as well.
Slightly Superstitious
Even the most confident professional has his superstitions, and RobinHood is no exception. He never gambles with a woman, he never uses drugs or alcohol while gambling, and he absolutely hates it if someone touches him while he plays. "It feels like they are stealing my luck," he explains. In addition, he does not like others to watch him and prefers to be alone in a quiet locale, of course in Vegas the crowds are hard to avoid, but as a regular high roller, he's very well accommodated by the big Vegas blackjack pit bosses. For good luck, he keeps his mother's wedding ring with him.
Good Deeds Don't Go Unnoticed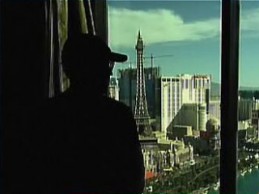 Fox News interviewed RobinHood702, and although he wore a disguise and was filmed in shadow, he appears to be a thin, tall, white guy who prefers to dress in jeans and a t-shirt. And since the interview, he has been contacted by thousands of people in need all over the world.
"I've gotten people from 135 countries coming to my website, RobinHood702.com," he told Fox News. "It's become a global response. At first this was about Americans helping Americans, but now it's become much bigger. It's about humans helping humans."
Dr. Richard Schultze, an acquaintance of RobinHood702 is lending a hand with the task of reading all the submissions and best figuring out who to help next. It is an overwhelming and heartbreaking decision that has become a full-time job. Dr. Schultze, whom everyone calls "The Doctor," has made millions in herbal supplements, energy boosters, and real estate. After reading some of the stories, Dr. Schultze decided to sponsor a family of his own. "We need more merry men and women to step up and help out," said Shultze. "A few have come forward, but not nearly enough."
Last month, Jeff Martinez and his family were blessed by RobinHood702′s generosity. Jeff has Stage 4 cancer attacking his colon, liver, adrenal glands, and lungs. He is a dispatcher for a motor coach company and continues to work 40-hour weeks while fighting the disease.
His wife works two jobs, and they are also the parents of two teenagers. When the medical bills started piling up, they had to give up their house because they couldn't keep up with the mortgage payments. RobinHood702 gifted the family approximately $25,000. Martinez and 10 family and friends were transported to a VIP table at Pure Nightclub, one of the best venues in Vegas, inside Caesar's Palace.
Martinez said, "It's gonna help me heal, and you know what? He [RobinHood702] is going to be the first person I call when I can finally say I'm cured of cancer. So thank you, Robin Hood!"
Who's Next?
The following is a statement from the official website of RobinHood702:
Submissions should be 1-3 minutes in length and reflect not just your current financial situation but other factors illustrating how you've gotten where you are and why you deserve RobinHood702′s help. You can submit for a friend. Verification of debt will be required. This is not a joke or a scam. This is one man trying to make a difference in the lives of deserving people, hoping others will do the same.