written by: Will under News Comments: Comments Off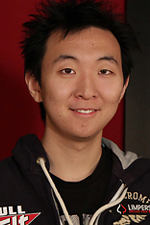 Rui Cao was the most dominant player on Full Tilt Poker last week, and this week, it seems that he's setting his sights on the high stakes games at PokerStars. Plenty of big name talent was absent during the beginning of the week as a result of the EPT Grand Final, leaving an opportunity for Cao at the $50 / $100 PLO tables.
Under his PepperoniF handle, Cao took on online poker pro tkala and earned $65k over the course of 1,540 hands. Though Cao mostly plays at Full Tilt (he's sponsored by FTP, after all), he's positive by roughly $555k at PokerStars for the year. He accomplished this feat playing over 18,600 hands. In combination with the $950k he has earned at Full Tilt, Cao is positive by over $1.5 million for the year, making him one of 2011′s biggest overall winners so far.
The biggest winner of the night at Full Tilt was KidPoker705, who earned $56k playing almost 1,600 hands. This puts him positive for the year, something that's rarely happened since January. It should be noted that KidPoker705 is not Daniel Negreanu, despite his handle.
XWINK also returned to the Full Tilt tables to win $37k over the course of 424 hands. XWINK, a fan favorite known for his roller coaster-style upswings and downswings, has been playing consistent poker since losing almost $1 million in a single day earlier in the year. Phil Ivey was largely responsible for that loss, but Black Friday should prevent a similar occurrence from happening in the near future as Ivey played from the US.
The biggest loser on Full Tilt for the night was Samrostan, who lost $81k playing heads up NLHE at the $100 / $200 stake level. Tkala was the worst overall player on PokerStars, losing $65k thanks to Rui Cao. Other notable losers included takechip (down $11k), Himan33 (down $17k) and FinnishNightmare (down $26k).