written by: James under News Comments: Comments Off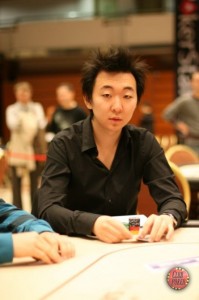 Rui Cao, a Full Tilt Poker sponsored pro hailing from France, was one of the top 5 biggest online poker money winners in April. Not one to rest on his laurels, Cao logged on to Full Tilt a few nights ago to start off his May with a huge $202k win. Rui Cao earned the sum over the course of roughly 2,250 hands at the $25 / $50 stake level tables.
Cao, who was born in China before ultimately settling in Paris, has largely existed in he background of the high stakes online poker world for several years despite frequently cashing at the World Series of Poker. His performances at the PLO tables this year should have more railbirds taking notice.
Including his most recent win, Cao is positive by $880k for the year. He's been incredibly strong since Black Friday saw the exodus of US players from Full Tilt, and it'll be interesting to see whether he can keep his momentum.
Gus Hansen and Patrik Antonius, the highest profile Full Tilt pros, were strangely absent from the tables on the night Cao won his $200k. Understandable for Hansen, given his weak performance in April and the fact that he's likely trying to hold onto his #1 spot by cutting down on volume. Instead, Cao's competition consisted of up-and-comers such as BelaVeja, Carlooo13, moi_rhums33, davin77 and Jani Vilmunen, a Finnish player known for his cash game expertise.
Cao was already playing strong against tougher opponents including Antonius, Hansen and Ingenious89, and the second-tier competitor field posed little challenge.
The other biggest winners of the night, including masoren (up $59k) and Adiprene1 (up $80k), took their money on PokerStars. On Full Tilt, moi_rhums33 picked up $48k while davin77 earned $50k.
Some of the biggest losers included Vilmunen (down $43k), BelaVeja (down $44k), Carlooo13 (down $89k), antonionel (down $90k) and mr. johnny89 (down $98k).