written by: Steve under News Comments: Comments Off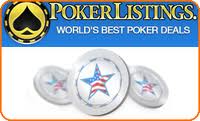 A rumor gaining ground in the poker world this past weekend has to do with PokerListings.com possibly purchasing Cake Poker. Most of the gossip has centered around poker affiliates on online poker forums who are pointing to the new homepage advertisement for Cake Poker on PokerListings.com offering a massive –and unprecedented—110% deposit bonus up to $1,000 on Cake Poker.
Cake Poker has been struggling after the loss of several high-profile skins on their network over the past year or so including Lock Poker, SportsBook, Players Only, and most recently Doyles Room. The once powerful player in the online poker market that was challenging the big boys as a top 10 poker network has plummeted into the mid twenties in terms of overall traffic according to pokerscout.com.
PokerListings.com is one of the top online poker portals in the industry, but the site is perhaps best known for the still unsolved murder of the site's founder back in 2009. In August of 2009 Andreas Oscarsson, founder of PokerListings.com, was shot in Sweden while visiting his children. Although Oscarsson had left the site in terms of having a day to day operational role, he was still a valued consultant for PokerListings.com at the time of his death.
I don't know how much credence can be put into this rumor at the current time, but we'll be sure to keep you posted on any further developments.