written by: James under News Comments: Comments Off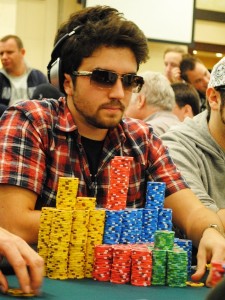 One of the most popular tournaments each year is the World Championship of Online Poker sponsored by PokerStars – especially for the young poker professional Ryan D'Angelo. One of the reasons that D'Angelo will be looking forward to WCOOP next year is that he has now earned his third WCOOP bracelet, a record breaking win. In other words, D'Angelo is now the only player to have earned 3 WCOOP bracelets.
D'Angelo logged this record breaking win this week at event 55. His final opponent for the title was Ravi Raghaven. By the end of the heads up battle, D'Angelo walked away with some extra jewelry on his wrist and a hefty $199,000 purse. The two remaining players actually came to an agreement where they would both walk away with large prizes – although D'Angelo would be declared the event winner. For his agreement, Raghaven walked away with a comparable prize of $179,000. It was understandable that the two came to a chop agreement as they had spent a considerable amount of time whittling down the 1,066 players that came to have their own shot at the money.
The large turnout resulted in a total prize pool of more than $1.2 million. During the course of the $530 No Limit Texas Holdem tournament, 746 players bought back in after being eliminated and 646 add-ons occurred.
Ryan D'Angelo is a 24 year old poker professional from Binghamton, New York. His feat is even more amazing when you consider that this young player only went professional a few years ago.