written by: James under News Comments: Comments Off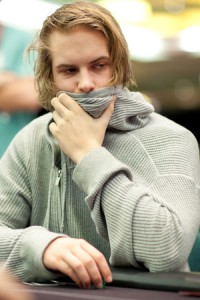 Viktor "Isildur1″ Blom has been on a $260k upswing, fueled by a high stakes online regimen that sees him playing over 6,000 hands a night. There's sure to be some bumps in the road with this sort of volume, and Blom hit a major one just last night when his ongoing winning streak was crushed by Scott Palmer, aka "urnotindangr."
Blom and Palmer engaged in a heads up multi-table session of PLO at the $25 / $50 stake level. It only took 400 hands for Palmer to take $175k from the Swede, an event that's becoming all too common for Blom when he faces off against Palmer. Blom did manage to recoup some of his losses by playing a few minor opponents, and ultimately ended up down by $168k.
Although it was a quiet night overall for high stakes poker, a few other players managed notable victories as well. Gus Hansen continued his epic win streak, which has already made last year's severe downswing a distant memory, when he earned $81k playing heads up PLO at the $500 / $1,000 stake level on Full Tilt Poker. Hansen is showing positive earnings of almost $3 million so far this year, putting him at the top of the online high stakes leaderboard and forcing his detractors to think twice about the Great Dane.

Jared "harrington25″ Bleznick, who has been hot and cold as of late and seems to trade wins for losses with his PokerStars and Full Tilt accounts, had a positive night as well when he played over 1,000 hands of PLO at $100 / $200 to win $60k. His performance was closely echoed by Dan "Jungleman12″ Cates, who won $54k of his own.
The biggest loser of the evening was PixKim, who lost around $154k playing $100 / $200 PLO. Other losers included OMGClayAiken, Rumprammer and TheHoboKing, all of whom lost around $40k each.