written by: Jennifer under Poker Comments: Comments Off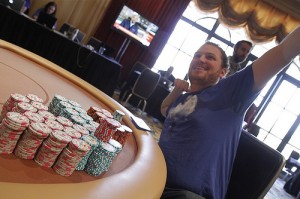 The WPT World Championship kicked off on May 14 at the Bellagio in Las Vegas as the Main Event of the Five Diamond World Poker Classic. The stop on the Season 9 tour was its season finale, and the $25K buy-in tournament was a tradition for the WPT.
The tournament drew 220 players and created a $5,309,500 prize pool. By the end of Day 2, there were still 116 players in the field, and that number thinned to 52 during the third day, ending with Sam El Sayed in the chip lead with 1,107,000 and Nenad Medic in second with 1,098,500.
Day 4 then began to play toward the money for the final 27 players. Hafiz Khan was the bubble player, and Matt Zyman was the first to cash. Others who finished in the money included Doyle Brunson, Dave "Devilfish" Ulliott, Abe Mosseri, and Christian Harder. The day ended with 15 players left and Galen Hall in the lead with 3,438,000 chips, followed by El Sayed with 2,774,000.
The final table was set after a long Day 5, following eliminations of players like David Williams, Daniel Alaei, Nenad Medic, Shannon Shorr, and Sam El Sayed. David Peters exited in seventh to leave only six, with Galen Hall in the lead with 5,095,000 and Scott Seiver close behind with 5,075,000. Justin Young was the short stack with 1.75 million.
May 20 brought the action, though play was a bit slow for the first forty hands or so. Finally, Hall eliminated Young in sixth, and Seiver took out Tony Gargano in fifth. Hall was back in control to eliminate Roger Teska in fourth, but it was Hall who was eliminated in third place by Seiver. Heads-up play started with the 114th hand of the night with Seiver holding 16,305,000 chips versus the 5,695,000 of Farzad Bonyadi. But Seiver took control of the 40-hand match. It was on a board of 10c-6d-2s-Qc-Ks that Seiver bet, Bonyadi check-raised, and Seiver moved all-in. Bonyadi finally called all-in with Qs-10h, but Seiver had Js-9d for the straight. Scott Seiver won his first WPT title and more than $1.6 million.
1st place: Scott Seiver ($1,618,344)
2nd place: Farzad Bonyadi ($1,061,900)
3rd place: Galen Hall ($589,355)
4th place: Roger Teska ($371,665)
5th place: Tony Gargano ($278,749)
6th place: Justin Young ($225,654)
All information and photos courtesy of the World Poker Tour Live Updates team.