written by: Jennifer under Poker Comments: Comments Off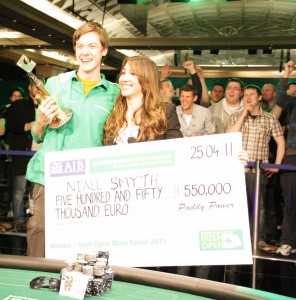 It's not one of the major tournament series. In fact, it's not a series at all, but the Irish Poker Open has grown exponentially in popularity through the years. It was first established in 1981 and is the second longest running poker tournament in the world aside from the World Series of Poker.
This year, the €3,500 buy-in NLHE Main Event was held in Dublin, and action started on April 22. When registration closed, there were 615 players in the tournament, which put the prize pool at €1,968,000, enough to pay the top 64 finishers and give €550K to the winner.
As always, the event drew some big names, like Sam Trickett, Andy Black, Roberto Romanello, Alan Smurfit, Padraig Parkinson, Jake Cody, Dave "Devilfish" Ulliot, and Julian Thew. Only 287 of the crowd made it through to Day 2, and it was late in that day that the money bubble burst. There were only 55 players who moved on to Day 3, and some who cashed but failed to make the final table included Michael Tureniec, Noel Furlong, JP Kelly, Marty Smyth, and Jude Ainsworth, and Andy Black was the tenth place finisher.
The final table played out on April 25, with Niall Smyth as the starting chip leader (2,038,000 chips) and Niall McCann as the short stack (434,000 chips).
Smyth began by eliminating McCann, but it was Seamus Cahill who stepped up to eliminate John Eames in eighth and Rob Taylor in seventh, and Surinder Sunar took out Karl Rudwall in sixth. Cahill was back to send Aleksi Savela home in fifth, but Smyth was able to eliminate Cahill in fourth place. Sunar busted Martin Petri to leave only two players, Sunar with 3.4 million and Smyth with 8.8 million. Sunar doubled up to even the stacks, but just as Sunar took the lead, Smyth doubled back to a commanding lead. The final hand saw Sunar all-in with A-9 to the Q-5 of Smyth, and the board came 10-3-3-2-5 to river the winning pair. Sunar took second place, and Smyth became the 2011 champion.
1st place: Niall Smyth (€550,000)
2nd place: Surinder Sunar (€290,000)
3rd place: Martin Petri (€180,000)
4th place: Seamus Cahill (€145,000)
5th place: Aleksi Savela (€115,000)
6th place: Karl Rudwall (€85,000)
7th place: Rob Taylor (€63,000)
8th place: John Eames (€45,000)
9th place: Niall McCann (€30,000)
Information and photo courtesy of the PaddyPowerPoker blog.