written by: Jennifer under Poker Comments: Comments Off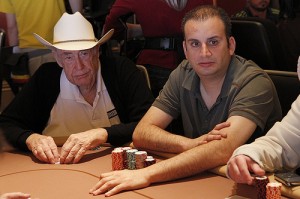 The ninth season of the World Poker Tour was ready to wrap, but not before the WPT World Championship played out. As part of the Five Diamond World Poker Classic at the Bellagio in Las Vegas, the WPT Main Event was the grand finale of the season with a $25K buy-in and elite field.
Players had plenty of time to register into the second day of play, but Day 1 concluded with some initial numbers. There were 188 players who entered the Main Event, and approximately 170 survived the day. And from that crowd, Christian Harder was the chip leader with 249,975 chips, followed by Ali Eslami with 240,475.
Day 2 added another 32 players to the field to add up to 220 for the registration total, which was higher than most industry people anticipated. While a lot of money is still tied up on online sites and with the WSOP on the horizon, a $25K buy-in was high, but the players responded with a favorable turnout. Here are the details:
Players: 220
Prize pool: $5,309,500
First place prize: $1,618,344
Paid finishers: 27
When that day ended, only 116 players remained, and Abe Mosseri (pictured above) was in the chip lead with 685,200, and Alan Sternberg was in a somewhat distant second with 606,400 chips. Steven Kelly and Roger Teska followed as the only other players above the 500K mark.
The final table is scheduled for Friday, May 20.
All information and photos courtesy of the World Poker Tour Live Updates team.