written by: Steve under News Comments: Comments Off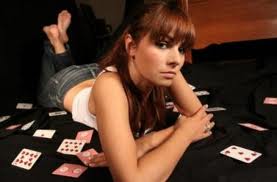 Young, male, Internet poker forum users will likely be registering at Bodog Poker in the coming days as news that the world's most popular Croatian Poker Presenter and blogger, Tatjana Pasalic, has just signed with the site. Pasalic only has about $6,000 in tournament winnings according to thehendonmob.com, but it's not her poker skills that garner attention for the 26 year-old model/TV presenter; it's her pictures!
The signing of Pasalic comes right after last week's news that Bodog Poker has renewed the contract of longtime sponsored player Evelyn Ng, which gives the site a dynamic one-two punch of young beautiful poker personalities to send to tournaments like the World Series of Poker –which is slated to be Pasalic's first tournament as a Bodog sponsored pro.
Pasalic was quoted by Bodog Poker as saying, "Bodog's brand is the one that fits me best…from the photo-shoot onwards everybody at Bodog has had a wicked sense of fun which is what I am about too so the synergy is obvious. They've all shown me great support already so it's now just up to me to take down the World Series!"
In recent years Bodog has shifted away from signing well known poker pros like David Williams and Jean-Robert Bellande, and gone with a more viewer-friendly marketing campaign with Evelyn Ng, Amanda Musumeci, and now Tatjana Pasalic.