written by: Jennifer under Poker Comments: Comments Off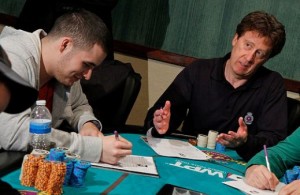 The World Poker Tour's stop at the Seminole Hard Rock Casino was a first this season, and according to the latest WPT press release, there will be several Florida stops during Season 10. Floridians have successfully won an ongoing courtship with the WPT.
The $10K WPT Main Event started on April 27 with registration going into Day 2 and ended up with 433 players and a $4,156,800 prize pool. More than $1.1 million awaited first place, while the top 45 players were to cash out for a profit.
Day 3 of the tournament started with 45 players but ended with only 51 of them left. And Day 4 brought the players to the money bubble, at which time Vinny Pahuja departed in 46th place to burst it. They played down to 18 players, as names like Sam Stein, Zach Clark, Mike Sexton, and Todd Terry cashed out. Day 5 whittled the field with eliminations of Noah Schwartz and others, until finally Blair Hinkle left in eighth and James Mackey in seventh place.
The final table was set for May 2 with Taylor Von Kriegenbergh as the chip leader with 4,384,000 and Curt Kohlberg as the short stack with 655K chips (both pictured above).
Action started rather slowly, as it took 77 hands to see an elimination. It was Kohlberg who took out Tommy Vedes in sixth place, and 22 hands later, Justin Zaki sent Allen Bari home. Kohlberg was back in action to eliminate Abbey Daniels in fourth, but it wasn't until many hours later that Von Kriegenbergh was able to eliminate Zaki in third. The heads-up match started with the 213th hand of the night with Von Kriegenbergh holding 11,125,000 chips to the 1.85 million of Kohlberg. It didn't take long for Kohlberg to move in, and he did it with As-10c. Von Kriegenbergh called with Qc-8d and hit the board nicely when it came Qs-4s-4d-Kh-Qh. The full house was more than enough to send Kohlberg out in second. Taylor Von Kriegenbergh won the WPT title, bracelet, Seminole Hard Rock Showdown trophy, first place prize money of $1,122,340, and $25K entry to the WPT World Championship.
1st place: Taylor Von Kriegenbergh ($1,122,340)
2nd place: Curt Kohlberg ($586,109)
3rd place: Justin Zaki ($415,680)
4th place: Abbey Daniels ($286,819)
5th place: Allen Bari ($211,997)
6th place: Tommy Vedes ($166,272)
All information and photos courtesy of the World Poker Tour Live Updates team.