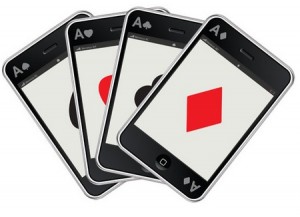 It's no secret our lifestyles are becoming increasingly mobile. With the advent of the internet and social media, we have the capability to be plugged-in at all times, and the easiest way to do this is through mobile devices. When Full Tilt released their Rush Poker app for Android late last year, there was a large positive response from the poker community regarding the ability to play poker on-the-go for real money. While the opportunities to play online poker for real money on mobile devices are still limited, there are numerous apps we as poker players can utilize for bankroll management, finding tournaments, and practicing Texas Hold'em.
We've scoured the 'net and compiled a list of poker apps on various mobile devices to help you hone your skills and keep current with poker from the touch of your phone. Below are reviews of the ones we think are most helpful for BlackBerry, iPhone, and Android users.
BlackBerry Poker Apps
Other BlackBerry Poker Apps:
Practical Poker Math (ebook) • Big2 Poker • World Poker Tour 2 – Texas Hold'em • Poker Buddy • Poker Swap • 3 Card Poker • Midnight Hold'em Poker • Negreanu Pro Poker • Poker Blast • Texas Hold'em Poker Rules and Tips (ebook Free) • A Poker Guide • Million Dollar Poker feat Gus Hansen • Poker 3 The Bluff • PokerClock – Poker Tournament Blind Tracker • World Series of Poker Pro Challenge • Aces Texas Hold'em – Limit
iPhone Poker Apps
The iPhone does not support many poker applications, probably because Apple has a strict stance on online gambling.
*Honorable Mention for non-US Players:
Switch Poker
While you won't find Switch Poker in the iPhone app store, if you go to the Web site via your iPhone, the site is compatible with the iPhone's interface, allowing you to play for real money.
Android Poker Apps
Other Android Poker Apps:
Ultimate Hold'em Timer • Pai Gow Poker • Texas Hold'em Odds • Poker Log • Papaya Live Poker • Poker Session Logger • m:Poker Live • No Fuss Planning Poker • Poker Blinds Timer • Poker Director Beta • Poker Hands Order • Poker Odds • Planning Poker • Poker Odds Evaluator • Poker Pal • Poker Income Bankroll Tracker • Poker Cheat Sheet