written by: John under Poker Pros Comments: Comments Off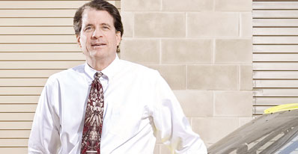 It took over three and a half years to play the highest staked game in poker history, and sadly, it started before the game of poker became the hugely popular pastime it is today. Back in the beginning of the new millennium, the first big series events to take place were, for the most part, private affairs—no television crews to document all the action that the fans today would have clamored to watch.
And that was just fine for Andy Beal, a reserved self-made billionaire banker from Texas. It was in the beginning of 2001 that he visited the Bellagio's poker room. He promptly found his way to the $80/$160 Texas Hold 'em tables. He soon tired of those and moved to the $400/$800 tables.
He began to feel confident and started looking for more of a challenge. Beal got his first chance to play with the big boys in a heads-up match with Todd Brunson. He did great during the first session and suggested they play higher. The next day Beal played against some of the best players in the world at stakes starting at $1000/$2000. He won more than $100,000 that day.
The professionals saw that he was no easy mark. He asked if anyone might be interested in playing for higher stakes. Quite a few professional players were interested but did not like Beals' insistence on playing heads-up, meaning one player at a time. Although many of the professional players are millionaires themselves, none of them wanted to risk their entire bankroll on this guy because even short-term bad luck could cost millions. That being said, it was essential for the pros going up against Beal to put aside the value of the chips.
THE "CORPORATION" WAS FORMED
It was Doyle Brunson who actually came up with the concept of pooling their money (and a few investors) in order to play at Beal's desired stakes and to also by-pass casino regulations that anyone who brings the cash to the table has the right to play. The team included many of the best players ever to play the game. Howard Lederer, Jennifer Harman, Chip Reese, John Hennigan, Chau Giang, David Grey, and of course Doyle Brunson, where the first members of the "Corporation." Many of them contributed as much as $1 million and would take turns playing Beal heads-up. The second and third years brought along Ted Forrest, Phil Ivey, Todd Brunson, and Johnny Chan, to name a few. In an innately individual game, the professionals had become a team and relied on each other in order to beat Beal.
Beal's first adversary was to be Chip Reese. (Reese, who died two years ago, was described as a poker purist and had perfect mixture of intellect, composure, and nerves of steel). Shortly after starting the game, Ted Forrest showed up and sat down with half a million dollars in chips. They had no choice but to observe the rules of the card room and let him in.
Beal played aggressively and was pushing the pace of the match. He made it clear that Forrest would have to make a stand and do it while he still could. Forrest rose to the occasion, and it was not long before Beal's stack was shrinking. In the end, Forrest won and made a little over one million dollars. Soon Forrest was asked to become a full member of the Corporation.
A REMATCH
Beal wanted to play again the next day, and Forrest quickly proved that he was on a streak. The stakes were $20,000/$40,000 and this time Beal lost $2 million. Jennifer Harman was to play next, and she proved her value to the Corporation by winning $1 million dollars more. Howard Lederer was the last to play in the series and was able to beat Beal in less than three hours, taking another cool million from the banker. Beal went home that day defeated, but he'd be back to play another day.
BEAL RETURNS
Over the next few years Beal would return to Vegas to take on the Corporation. A crowd of pros would gather around the legendary table at the Bellagio and watch the battles. Due to the private nature of the matches, most reports issued in the media were based on second-hand information. But, for the most part, the Corporation booked wins of a few million dollars each session, and it was reported that Beal once delivered a $5 million hit to Johnny Chan.
Beal admits that he has been an overall loser since the series began, but self-made men rarely give up, and he did get better. The best game he ever played was in May 2003. Blinds were $100,000/$200,000, and for days, Beal sat quietly with big black headphones on his head and played against the pros, who took him on in shifts. When it was over, he got up and walked away from the table winning more than $7 million.
HERE IS SOMETHING ELSE YOU WON'T SEE ON YOUTUBE
The last session of the series took place in February 2006 at the Wynn high-stakes room. Only Beal and the members of the Corporation were allowed in the area. The stakes were $50,000/$100,000. At one point Beal was $10.3 million ahead, but low and behold, in walks Phil Ivey, feared cash-game icon. Ivey set about his man in true super-focused Ivey style, and after three days of play, took Beal for $16.6 million. This puts the Corporation at a $6.3 million profit for the series!
Beal went back to Dallas, Texas where he is still a billionaire banker. While other banks struggle to dig out from under a mountain of bad debt, Beal is acquiring assets. According to Forbes Magazine, "In the last 15 months Beal has put $5 billion to work, tripling Beal Bank's assets to $7 billion, while such banks as Citigroup and Morgan Stanley shrink and gobble up billions in taxpayer bailouts."
Perhaps Beal will someday return to Vegas, and maybe he'll sit down at a WSOP tournament; then again, maybe he won't since it's not a heads-up cash game… or maybe he'll build his own casino… but whatever he does, it is unlikely that Las Vegas has seen the last of him.