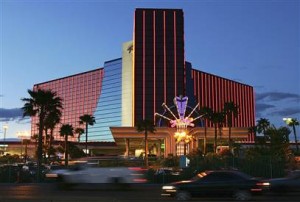 Since the completion of the 2010 World Series of Poker Main Event, there have been a great deal of rumors that Harrah's would no longer hold the WSOP at the popular Rio. These rumors also suggest that the WSOP will be moved to a larger Harrah's venue like Caesar's Palace or Planet Hollywood. However, according to Harrah's officials, this is simply not the case. It is true that the WSOP has continued to grow in popularity and may one day need to be moved to a larger venue. However, officials do not anticipate this for several years. No matter what, it is clear that the 2011 WSOP will be held at the Rio.
The last time that the WSOP was moved was in 2005, when it was relocated to the Rio itself. Before 2005, the WSOP was held in Binion's Horseshoe. Even when the WSOP was moved, the Main Event still took place at Binion's. Of course, the primary reason for this move was because Binion's was located in downtown Las Vegas and the event had outgrown the area.
According to Seth Palansky, the Communications Director for the World Series of Poker, the WSOP "…will return to the Rio in 2011 and for several years ahead."
One of the misconceptions behind the recent rumors about the Rio is that the WSOP has outgrown the Rio, or is even close. While the WSOP is certainly a much more popular event than it has been in the past, the 2010 WSOP Main Event was not a record breaker – actually the 2nd largest attendance in WSOP history. The Rio is also very capable of handling any record attendance numbers that future events may set, especially if the Main Event is made up of a more star studded ensemble than it was in 2010. Typically, the final table is the most well attended portion of the Main Event. This table is hosted in the enormous Penn and Teller Theater and shows no signs of coming close to maximum occupancy.
The job never ends for WSOP organizers, and officials are already beginning work for series number 42, which, by all accounts, will be held at the Rio.