written by: John under News Comments: Comments Off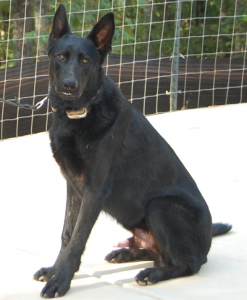 For those of you who are wondering what became of Tony G's faithful German Shepherd Zasko after Tony failed to procure Peter Eastgate's 2008 World Series of Poker bracelet for his trusted animal friend, we now have a Zasko update courtesy of Tony G's blog. It appears Zasko ran into some Visa issues and was unable to make the flight to the Aussie Millions with Tony, who is intent on having a dog with him while he plays in the $100k buy-in tournament at the Aussie Millions –hey, to each his own—but he did find a way to keep his promise of bringing a dog into the Crown Casino:
"So it's official, I will have a dog with me when I play the 100k event at the Aussie Millions on Saturday. Before you ask, it is not Zasko, there were some visa and security issues but his mate TJ will be coming along to be my lucky mascot. TJ is an intelligent and obedient dog specifically trained by the best in the business to be my faithful guard. He plays ball, he plays dead but he is ready for action within a split second if called upon."
Tony plans on feeding TJ the finest Wagyu Steak, and has gone so far as to hire a personal chef for the German Shepherd: It will be interesting to see what the other top players who ante-up $100k have to say about this development –not to mention if Zasko will become jealous of TJ!