written by: John under Poker Pros Comments: Comments Off
There are two types of poker games, cash games and tournaments. Cash games are played with your own money, and the blinds do not increase. Tournaments are played by paying an entry fee, and you play with tournament chips until only one player wins all the chips in play. In tournaments the blinds and antes do go up at times intervals, and a certain number of places are paid at the tournament's end.
The World Series of Poker is being played right now, and it's the biggest poker event in the world, taking place in Las Vegas. Players can quickly become millionaires if they play smart and Lady Luck is on the right side. The top WSOP players have amassed millions and here are the top five:
#1 Phil Ivey – $12,813,990 – He may not be doing so hot so far at this year's WSOP, but Phil Ivey is one of the best all around players to ever play the game. This year, he has proven himself to be poker's all time tournament winnings leader. In January 2010, he finished in second place in the Aussies Millions $100,000 (Australian dollar) buy-in, winning $600,000 Australian dollars and surpassing Daniel Negreanu as the top all time money winner in tournament poker.
Ivey has won more than $12.6 million in poker tournaments, including one World Poker Tour title and seven WSOP bracelets. Some of his biggest wins over the years include the following:
- $635,600 for Pot Limit Omaha in 2005
- $1 million in the Monte Carlo Millions of 2005
- $132,000 for 7 Card Stud in 2002
- $107,540 for SHOE in 2002
- 8 WPT final tables
Phil Ivey is one of the most popular players on the tournament circuit. He has given a lot of his winnings to worthy causes, such as child literacy, as well as to programs that help the homeless. He has also created a charity of his own, the Bud Ivey Foundation, in honor of his grandfather. The mission statement is "Providing educational opportunities to empower at-risk children."
#2 Daniel Negreanu – $12,432,367 – Romania-born Negreanu has made his name in the poker community when at the age of 23, in 1998, he became the youngest WSOP bracelet winner in history–a record he held until 2004 when Gavin Griffin won at the age of 22.
That same year, 1998, Negreanu was named Cardplayers' Player of the Year. He's won more than $11 million from WSOP tournaments, though he's never won the Main Event. He has though, won and cashed in a number of smaller tournaments. As one of the most successful poker tournament players, Negreanu has conquered two World Poker Tour Championship titles and four World Series of Poker bracelets. You can also catch Negreanu playing poker on the Fox Network show, PokerStars Million Dollar Challenge, something he really enjoys and says he's "thrilled to be a part of."
Daniel also has an interesting blog that you can read here.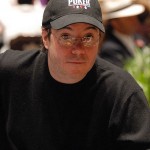 #3 Jamie Gold -$12,201,061 – Jamie is mostly known for winning the 2006 WSOP Main Event, where he won most of his $12 million. He is known as a fierce player who likes to get other players to go on tilt. Most recently, he had a sponsorship deal with Aced.com, which fell through. According to his agent, Gold turned down several endorsement offers over the past few years before deciding on Aced. Aced.com, which operates on the Merge Gaming Network (the 19th largest online poker network in the world according to Pokerscout.com), opened in September of 2008. Gold stood to earn eight figures or more from the deal. Gold's lawyer is quoted as saying, "this contract is valued at more than any deal I've ever heard of." The deal will also pay for Jamie's buy-ins in major USA, European, and Asian events. You can read what happened to his deal here.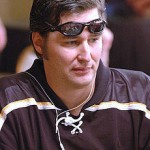 #4 Phil Hellmuth Jr. – $10,991,871 – Hellmuth may not be the most liked player in poker, and while he may not be on the list for much longer, he's on the list, nonetheless. His 2007 World Series of Poker win was his 11th career WSOP title, making him the all time leader in WSOP bracelets. Every time he wins a WSOP Championship bracelet though, he gives it away, with the exception of the very first one. He is the main icon of UltimateBet and surely gets a decent cut of their profits. He frequently plays on televised poker games, to which he no doubt gets a stipend for.
Also known as the "Poker Brat" for the fits he pitches at the felt, Hellmuth even has his own clothing brand, Poker Brat, (found at pokerbrat.com), which contributes to his income as well. And don't forget about his poker books and his black belt courses, which probably netted him a lot funds as well. He's is known for his colorful personality and his ability in tournaments (as opposed to his ability in cash games).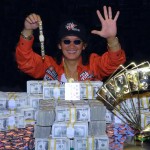 #5 Scotty Nguyen – $10,955,557 – Thuan "Scotty" Nguyen is the truly the Prince of Poker. Scotty worked his way up from cleaning tables, to becoming a dealer, to student player, and ultimately to poker pro. In 1998 Scotty took home the $1 million first prize winning at the World Series of Poker Main Event. Since then, Nguyen has gone on to establish one of the most unique and impressive tournament poker records in the world. He like his cigarettes and is a hard-drinking and lovable big mouth; to him everyone is "baby," but unlike #4, he doesn't prove to be one himself. He is easily one of the top ten tournament pros active in the world today, a millionaire many times over, and a popular guy with lots of fans.
While the values of poker prize money seems to get larger and larger with each new year (even on the best online poker sites which promise bigger and bigger guaranteed prize pools), the players seem to get better and better, warranting their hefty paychecks… just as much so as football and baseball athletes do.