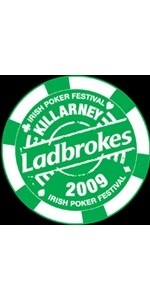 This past week, the Ladbrokes Irish Poker Festival took place where more than 630 players showed up to battle for a 1st place spot worth more than $70,000. At the end of the memorable four day festival, it was Lars Torngren that stood out above the rest and took home the prize package. The Swedish professional poker player took home the coveted title after outlasting the recognizable John Kalmar – a World Series of Poker Main Event finalist.
The last hand of the festival was actually a 3 way all in where Torngren and his opponents Paul Lucey and Brian McGleenon pushed their stacks in the center for one last battle. McGleenon was the first to push with a rather weak Jack/5. Torngren followed him with his pair of pocket Sixes and Lucey rounded out the big hand with his Ace/7. Unfortunately for McGleenon and Lucey, Torngren's low pair held to the end and he took home the pot and the victory.
However, Lucey and McGleenon didn't exactly go home empty handed. Lucey was marked as the second place finisher of the festival with a 50,000EUR prize. McGleenon also cashed for a total of 30,000EUR to compensate him for his efforts.
When asked to comment about the outcome of the tournament, Torngren remarked that he had been playing poker for around 8 years and this was his 1st major poker tournament win. He also stated that he was "looking forward to next year" when he would have the opportunity to defend his new title.
Lars Torngren lives in Weybridge, United Kingdom and has a total of 3 cashes to date. The 42 year old Swedish born poker player has only the Ladbrokes Irish Poker Festival win to speak of as far as tournament wins go. Torngren enjoys playing No Limit Texas Holdem and lives with his wife in the UK.