written by: Steve under News Comments: Comments Off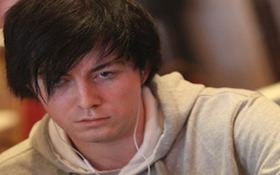 Late last week PKR Poker sent out a press release stating the site would be making a major addition to their roster of sponsored pros. Now building up an announcement for close to a week, and then announcing that Hevad Khan (no offense to Hevad) is your latest sponsored pro would be absurd, so the poker world was left wondering just who this "top player" was going to be?
Well early on Thursday we learned that PKR Poker was not overstating its latest signing, as it turned out to be UK star and Poker Triple Crown Winner Jake Cody.
Cody, only 23 years-old, has already captured a WPT title, an EPT title, and a WSOP bracelet –a feat he accomplished in less than 2 years—and is considered one of the best tournament poker players in the poker world. Cody has lifetime live tournament earnings of around $2.8 million.
Cody will join an already stacked roster at PKR Poker, which boasts a number of the games top young talents including EPT Snowfest winner Vladimir "Beyne" Geshkenbein (who also made a super-deep run in the 2011 WSOP Main Event), WSOP Europe bracelet winner Scott "PKR_Scott" Shelley, Germany's Sascha "locodice" Walter, France's Marc "Waswini" Bariller, Sofia "wellbet" Lovgren (PKR's resident lady of the felt), and the UK's James "James666" Sudworth.
PKR Poker will be welcoming Cody to the site as he hosts two tournaments weekend, and also with a special offer that will give one lucky PKR player the chance to take on the Triple Crown winner in a heads-up clash. Here are a few more details from the PKR website:
You'll get your first chance to meet Jake in this weekend's Bounty Day promotion, where he'll be taking to the PKR felt as the host of two events. Also on Sunday night, Jake will be taking on one lucky challenger in the next 'Pwn a Pro' heads-up clash, to be featured in the upcoming issue of Stacked magazine. If you'd like to take Jake on for $500 (you even get $200 if you lose!), register now for tonight's JakeCody's Pwn a Pro lotto, which starts at 21:30 GMT.