written by: James under News Comments: Comments Off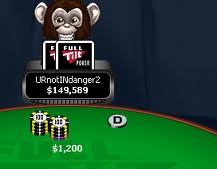 It's already been an extremely busy week for high stakes online poker, with big names like URnotINdanger2 and theASHMAN103 posting massive gains and hype machine Isildur1 down slightly.
URnotINdanger2, otherwise known as Scott Palmer, battled it out in an extended session with Patrik Antonius at the $500 / $1,000 Heads Up Holdem/Omaha tables. Over the course of 428 hands, Antonius gave up over $366,000 to Palmer, a resident of Maryland. Two of the pots won by Palmer were valued at upwards of $200,000. Antonius, a member of Full Tilt Poker's pro team, earned some of his money back playing $200 / $400 Holdem Six Max, though he still finished the day $334,000 in the red.
Over at PokerStars, the recently-signed and still relatively elusive Isildur1 continued his extremely prolific play, making some wonder whether the allegedly Swedish-born player ever gets any sleep. Over the course of the weekend, Isildur1 racked up 3,087 hands and ultimately ended up down $65,000. A massive loss for a normal player, but only a drop in the bucket for player with Isildur1′s bankroll. Industry speculation still indicates that Viktor Blom is the most likely candidate for I1′s identity.
Other high stakes winners included nutsinho, gordo16, LuckyGump and <, all of whom won $50,000 or more. theASHMAN103 wasn't so lucky initially, losing over $77,000 playing Six Max Pot Limit Omaha at the $200 / $400 level. Ashton "theASHMAN103″ Griffin bounced back the following night, however, when he won $104,000. Griffin faced off against Ziigmund and Niki Jedlicka at the $50 / $100 Pot Limit Omaha tables, where he recorded a very positive finish over 428 hands.
Most of Griffin's winnings came from Jedlicka, who he took $86k from over the course of 75 Six Max PLO hands. The remaining $18k was provided in a shorter session by Ziigmund.
Phil Ivey had a positive early week as well, earning $88k against IHateJuice at the $3,000 / $6,000 Limit Holdem tables. durrrr was largely absent from the action, despite the ongoing durrrr Challenge 2, despite jungleman12′s efforts. durrrr experienced disconnection issues, causing jungleman12 to play with Antonius instead.