written by: Steve under News Comments: Comments Off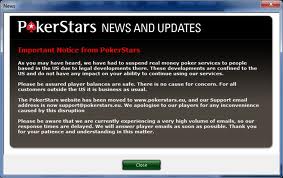 In breaking news on Tuesday afternoon, PokerStars has sent an E-Mail to its US online poker customers explaining that they can now access the cashier's page and begin requesting cash-outs from the site.
The news will likely go down as just the second bit of "Good News" since Black Friday, the first being the impetus for today's E-Mail when PokerStars and Full Tilt Poker cut a deal with the DOJ that saw the return of their .com domain names in order to facilitate withdrawals from US poker players whose money has been locked up.
Here is a copy of the E-Mail message I received from PokerStars:
In light of recent developments, PokerStars is no longer offering real money play to residents of the United States of America and its territories.
The PokerStars Cashier is now available for you to cash out the funds in your real money account balance. We strongly recommend that you use the bank transfer option; to use it, you will need to have your current banking information at hand.
Please note that due to the expected high volume of cashout requests, we anticipate a delay in processing and delivery of your funds. Rest assured that your funds are safe and we will process your request as soon as possible.
Please contact paymentservices@pokerstars.com if you experience any issues.
Thank you for your patience and understanding.
Regards,
PokerStars Support